2023 Jack Berman Award Winner Monica Valencia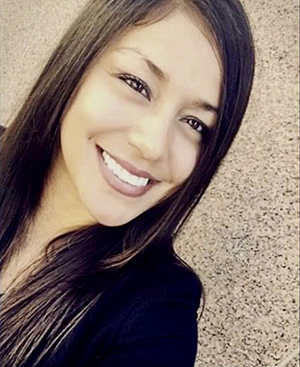 Congratulations to the 2024 Jack Berman Award of Achievement Winner Monica Valencia!
Monica Valencia is a lawyer, clinical professor, non-profit director, activist and artist. She is from Echo Park in Los Angeles, California and grew up in an undocumented immigrant family, and later – a mixed-status family.[1] Born to immigrant parents from Mexico, Monica very much grew up in an immigrant household as a first-generation Latina. As such, Spanish is her native language. Monica believes that her language and her culture are both important to her identity, but also to the ways in which she navigates her spaces in society.  She is the first in her family to attend college, graduate, and receive higher education.
Monica enlisted in the U.S. Air Force after high school and received station assignments in the U.S., South Korea and Germany. She excelled in the military receiving numerous awards and spent six years in service of her country, traveling through Europe, Asia, and the U.S. Monica also graduated from the Pitsenbarger Airman Leadership School in Germany at Spangdahlem Air Base. Monica returned home to California with an honorable discharge at the rank of Staff Sergeant.
After the military, Monica graduated Magna Cum Laude with a B.A. in Sociology and a minor in Human Rights from the University of Southern California (USC) in Los Angeles, where she excelled academically and received numerous awards, scholarships and fellowships. As a McNair Scholar and Mellon Mays Fellow, she was able to design, conduct, & complete an Honors Thesis under the instruction of Dr. Pierrette Hondagneu-Sotelo and Dr. Jody Agius Vallejo. Monica spent a year and a half in the field conducting ethnographic research based on participant observation and in-depth interviews in an indigenous community in Oxnard, California. Monica successfully presented her research findings at numerous sociological conferences around the nation and coined the term "transnational prejudice." Monica graduated from USC having received one of the highest honors; the Order of the Laurel and the Palm, among other honors that celebrated her academic abilities.
Monica went on to study law and received her Juris Doctorate (J.D.) degree at the University of San Francisco School of Law. While at USF Law, she gained practical skills by interning and externing at various organizations including the Immigration Center for Women & Children, Justice Now, and the Immigration & Deportation Defense Clinic at USF Law. Monica taught Street Law to high school students in the Mission District of San Francisco, CA, and competed on the Asylum Moot Court Team at USF Law. She was also one of ten students selected to participate in the Keta Taylor Colby Death Penalty Project and was assigned to the Capitol Defenders Office in Jackson, Mississippi. Monica also volunteered at the U.S./Mexico border to assist asylum seekers with legal intakes and Know-Your-Rights presentations.
As a result of her dedication to the profession of law, she has been awarded several awards including the San Francisco Trial Lawyers Association Fellowship, the Equal Justice Works Public Interest Law Award, and the OneJustice Pro Bono Publico Gold Award two years in a row. Monica graduated from law school having received a public interest law certificate with high honors. At her graduation, Monica was also the recipient of the 2017 "Pursuit of Justice" award; which is awarded to one student from the graduating class.
While in law school, Monica founded the Dreamer Fund in 2016, a non-profit in San Francisco, California, in hopes of giving back to undocumented law students and her immigrant community. She is currently the co-executive director of the Dreamer Fund and she uses the Rebellious Lawyering model to work collectively and learn from the undocumented and immigrant communities to create social change and education equity. Monica was trained under the "Rebellious Lawyering" model by her mentor and professor, Bill Ong Hing, both as a law student and a Post-Bar Fellow at the Immigration & Deportation Defense Clinic at USF Law. She continued her training with Prof. Bill Ong Hing, Esq. and Prof. Jacqueline Brown Scott, Esq. at the clinic for three years.
Monica considers herself a Rebellious Lawyer, rather than a traditional lawyer, a term coined by Prof. Gerald Lopez, Esq. from UCLA. Not only does she practice law as a Rebellious Lawyer and teaches her staff to practice under this model, but she also teaches her law students under this model at Golden Gate University. Monica is the Immigration Clinic Co-Director and adjunct professor at Golden Gate University School of Law in San Francisco, California.
Today, Monica is also the Managing Attorney for the Removal Defense Unit & Student Legal Services Department at the Coalition for Humane Immigrant Rights in Los Angeles (CHIRLA) in Los Angeles, California. Monica manages two distinct legal services teams that provide effective and intentional legal services to college students in both Southern and Northern California at the community college and Cal State University levels. As a defender, she also provides superb legal services to asylum seekers who are fleeing systemic persecution and violence around the world – with a focus on LGBTQ persecution and violence against women.
[1] Mixed-Status families refers to growing up in a family where members of your family having different immigration status.
---