CCPA Summit: Privacy, Technology, and Law Firm Growth in the Digital Age
Friday, November 1, 2019, 8:30 a.m. – 3 p.m.
Alameda County Bar Association
1000 Broadway
Oakland, CA 94607
Earn 2.5 Hours MCLE Credit!
---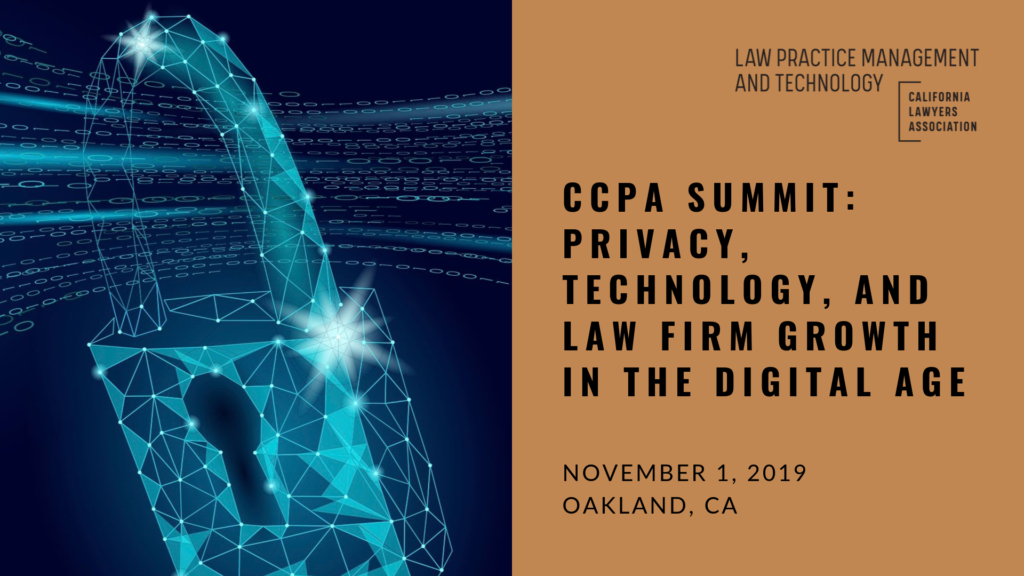 Co-Sponsored with the Alameda County Bar Association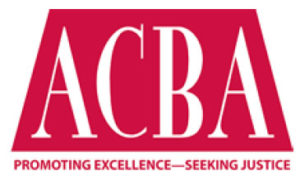 Essential Info | PDF Flyer | Registration Form
Schedule
8:30 a.m. – 9:15 a.m. | Registration & Networking Breakfast
9:15 a.m. – 9:30 a.m. | Welcome & Introductions
9:30 a.m. – 10:45 a.m. | CCPA: What It Is and What You Need to Know [1.25 Hours MCLE Credit]

The California Consumer Privacy Act is set to go into effect on January 1st, 2020. This panel will provide a primer on the CCPA and will discuss key definitions, requirements, and other important privacy-related concepts. The presentation will not only cover foundational information about the law, but will also address gray areas, open questions, and the risks of non-compliance. Attendees will learn about the new rights of consumers and the main obligations that businesses have under the new law. The panelist of in-house privacy attorneys will also discuss privacy litigation under the CCPA, and provide a summary of amendments to the law, a comparison to GDPR compliance, and a roadmap for receiving guidance from the California Attorney General.

Speakers:

Christian Lee, Cooley
Anisha Magnalick, Zendesk
Zerina Curevac, Eaze
Hannah Poteat, Twilio, Moderator
11 a.m. – 12:15 p.m. | How to Advise Your Clients About CCPA [1.25 Hours MCLE Credit]

As the CCPA is set to go into effect in 2020, businesses throughout the state of California will need to comply with the provisions of the new law. In this presentation, a moderated panel of privacy attorneys will discuss practice considerations for how attorneys and law firms should advise their clients under the CCPA. The panel will outline strategies for how to counsel business clients on compliance with the law, and provide an overview of common pitfalls, areas of concern, data breach prevention techniques, and best practices for data security and third-party sharing. Additionally, the speakers will highlight key practice points for litigating and defending against CCPA complaints, covering both complaints arising from an individual's right to sue and class-action lawsuits. Attendees will come away with a strong understanding of advising on compliance and risk management, whether attendees are business, privacy, or litigation attorneys, in-house privacy directors, or legal professionals involved in business marketing or operations.

Speaker(s):

Perry Segal, Charon Law
Elaine Harwell, Procopio
Lori Chang, Greenberg Traurig
Mirena Taskovar, fieldfisher
12:15 p.m. – 1:30 p.m. | Lunch Panel Discussion: Privacy & Data – Where Are We Headed and What is on the Horizon? [No MCLE Credit]

Technology innovations are occurring at a rapid pace, revolutionizing every industry and even creating brand-new industries, marketplaces, and services. As a result, concerns about privacy and security have risen, especially in the wake of major data breaches by large corporations. Privacy is becoming a prime consideration for all companies, but technology modernization and innovation is certainly not slowing down. Can privacy keep up? And what's next? In this fireside-like discussion, panelists will discuss the intersection of privacy, data, security, and business — discussing current trends, cutting-edge technologies, and forecasts about what the future may hold. Covering a range of topics — including cyber security, biometrics, artificial intelligence, profiling for advertising, surveillance, international data, 5g wireless communications, internet of things, location tracking, the digital rights movement, and many others — the speakers will give the audience a clear picture of the current environment for data and privacy, and perspectives on what the future holds.

Speaker(s):

Perry Segal, Charon Law
Emily Yu, Roblox
Kamran Solour, BakerHostetier, Moderator
1:45 p.m. – 3 p.m. | Technology Tools, Privacy, & Data [No MCLE Credit]

New technology solutions are everywhere, revolutionizing virtually every industry. This two-part presentation will cover technology tools in the era of privacy and provide insights into several technology tools that attendees should be aware of or considering utilizing. In the first part of this presentation, the panelists will discuss emerging technology and data trends — for both the business world and the legal profession. The second part of the panel discussion will be a rapid-fire roundtable, where each panelist will have one minute to discuss a new technology, tool, or best practice. Each speaker will present 10 ideas, and the speakers will rotate after each minute. So, after the rapid-fire concludes, attendees will take away at least 40 tools, ideas, or best practices that they consider trying or implementing.
Essential Information
How to Register
Mail the registration form to: Program Registrations, California Lawyers Association, 400 Capitol Mall, Suite 650, Sacramento, CA 95814 Email Program Registrations at ProgramRegistrations@CALawyers.org. In order to email your registration, credit card information is MANDATORY. (Photocopies of checks will NOT be accepted.)
Walk-in: Subject to available space, walk-in registration is available. Call to confirm space availability (916) 516-1757
Registration Fee(s): $89
Pre-Registration Deadline: The deadline to pre-register is October 28, 2019.
Cancellations/Refunds: Requests must be received in writing by October 25, 2019. Refunds will not be available after October 28, 2019
On-Site Registration: On-site registration is subject to availability. Call to confirm space availability.
Special Assistance: For special assistance, please call (916) 516-1749
Questions: For registration information call (916) 516-1757. Telephone registrations will not be accepted. For program content and/or Section information call (916) 519-1749
California Lawyers Association is an approved State Bar of California MCLE provider
This event may be recorded. By attending this event, you consent to be photographed, filmed, and/or otherwise recorded, and to any use, by the CLA, of your likeness, voice, and name in any and all media including social media. If you do not want your name or photo to be used, please let us know in advance. We cannot, however, honor requests to opt out of the use of your image or voice if you choose to ask a question during one of the event sessions.