Advanced Mediation Conference
Practical Skills for Experienced Employment Litigators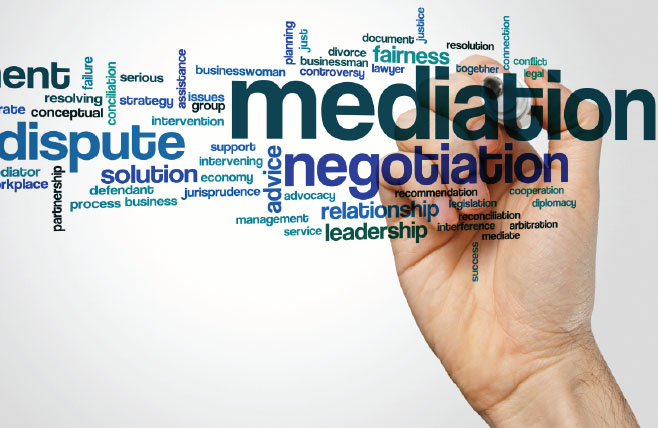 Earn Up to 6.5 MCLE Credit
Thursday, November 14, 2019
Location:
Latham & Watkins Office
355 South Grand Ave., Suite 100
Los Angeles, CA 90071
Note: This program is sold out.
Schedule | Essential Info | Speakers | Full Brochure
Even seasoned litigators sometimes feel lost with questions such as how aggressively to open or how to move a negotiation forward without giving too much away. And even seasoned litigators sometimes leave mediation feeling frustrated because a client left money on the table, or paid too much, or a case that should have settled did not.
This unique, full-day course will teach attorneys how to achieve better results, allowing them to resolve cases more efficiently and with greater client satisfaction. Using individual and paired exercises, panel discussions, and demonstrations, our faculty of leading employment law mediators and attorneys will provide the concrete tools to resolve more cases, more quickly, with better bottom-line outcomes.
Thank you to our Venue Sponsor, Latham and Watkins!
Speakers
John L. Barber, Lewis Brisbois Bisgaard & Smith
Eleanor Barr, Barr Mediation LLC
Lynne S. Bassis, ADR Services, Inc.
Andrew H. Friedman, Helmer Friedman LLP
Kelly A. Knight, Judicate West
Theodora R. Lee, Littler Mendelson P.C.
Christine Masters, Masters & Ribakoff
Linda Meyer, Linda Meyer Mediation
Ramit Mizrahi, Mizrahi Law, APC
Steven G. Pearl, ADR Services, Inc.
Angela J. Reddock-Wright, Reddock Law Group
Schedule
8 a.m. | Registration Open

Light breakfast available.
9 a.m. – 9:15 a.m. | Mediation: Mixed Motives and Mixed Signals (0.25 Hours MCLE)

People often ask what's happening in the other room during mediation. Equally if not more important, what's happening in our own room? Are we acting in ways that decrease the odds of settling and decrease our clients' satisfaction with the process itself and with any possible settlement? What can we do in our own rooms to improve the process, our clients' experience, and our end-of-the-day results?
9:15 a.m. – 10:15 a.m. | Competition and Cooperation (1.00 Hour MCLE)

Every party in mediation has conflicting goals. On the one hand, she wants to resolve the case, which requires cooperating with the other side. On the other hand, she wants to get as much as possible (or give as little as possible), which is inherently competitive. Balancing these conflicting interests can be difficult. Are there optimal strategies? What are they?
10:15 a.m. – 11:15 a.m. | Convening: The First Yes (1.00 Hour MCLE)

The parties' agreement to mediate is the first in a series of agreements that most often leads to resolution. This has been called the "Cascade of Yeses." What issues prevent parties from suggesting or agreeing to mediation? What opportunities arise for "integrative bargaining," or creating value for both sides?
11:15 a.m. – 11:30 a.m. | Break
11:30 a.m. – 12:30 p.m. | Preparing for Mediation (1.00 Hour MCLE)

Preparing for mediation means more than just writing a good brief. Lawyers should evaluate their clients' issues, imperatives, and concerns; examine the best, worst, and most likely alternatives to a negotiated agreement; set their reference points ("top dollar," "bottom line," and other conditions of satisfaction); and discuss these issues with their clients, all in advance of mediation.
12:30 p.m. – 1:30 p.m. | Lunch
1:30 p.m – 2 p.m. | Opening Demands and Offers (0.50 Hours MCLE)

When, if ever, does it make sense to have a joint session? If no joint session, how should attorneys handle their opening communications with the mediator and the other side? How should the plaintiff handle the opening demand? Is there an optimal range for the demand in a given case? How should the defendant handle the demand and its opening offer?
2 p.m. – 3:30 p.m. | Doing the Dance and Cutting to the Chase (1.5 Hours MCLE)

Most mediations pivot from discussions of the facts and the law to what often feels like simple horse trading. Is there an optimal time to make the pivot? Once the parties are doing the dance, are there typical or optimal negotiation patterns? How do you know how far to move and what messages to send with each move? How should parties deal with impasse, and when is it just best to cut to the chase?
3:30 p.m. – 3:40 pm. | Break
3:40 p.m. – 4:40 p.m. | Closing the Deal (1.00 Hour MCLE)

The parties have done the dance and are approaching their final positions (or perhaps beyond what they thought were their final positions when they started the day). What can the lawyers do to help close the deal?
4:40 p.m. – 5 p.m. | Lessons Learned (0.25 Hours MCLE)

Our panelists will highlight their most significant takeaways for mastering mediations from preparation to negotiations to resolution. This review of concepts will offer new ideas and efficient strategies that will help you achieve better results at your next mediation.
Essential Info
How to Register
**This Program Is Sold Out**
Mail the registration form to: Program Registrations, California Lawyers Association, 400 Capitol Mall, Suite 650, Sacramento, CA 95814
Email Program Registrations at ProgramRegistrations@CALawyers.org. In order to email your registration, credit card information is MANDATORY. (Photocopies of checks will NOT be accepted.)
Walk-in: Onsite registration will be on a space available basis. Call to confirm space availability.
Registration Fees
$225 – Section Members
$265 – Non-Section Members (Includes enrollment in the Labor and Employment Law Section)
**Onsite registration fees are $275 for Section Members and $315 for Non-Section Members
Deadline
In order to pre-register, your form and check, payable to California Lawyers Association, or credit card information, must be received by Thursday, November 7, 2019.
Cancellations/Refund Policy
Cancellations and requests for refunds must be received in writing no later than Thursday, November 7, 2019 and are subject to a $25 service charge. Refunds will not be available after Thursday, November 7, 2019.
Conference Information
Conference materials will be available online prior to the conference and provided on a USB at the conference. Wi-Fi will not be available inside the conference rooms.
Printed Materials Will Not Be Provided
Should you prefer to reference printed materials during the conference, please feel free to access the online information and print out the materials prior to the conference.
Questions
For registration information please call (916) 516-1757. Telephone registrations will not be accepted. For program content and/or Section information please call (916) 516-1748.
Special Assistance
For special assistance please call (916) 516-1748.
California Lawyers Association is an approved State Bar of California MCLE provider.
This event may be recorded. By attending this event, you consent to be photographed, filmed, and/or otherwise recorded, and to any use, by the CLA, of your likeness, voice, and name in any and all media including social media. If you do not want your name or photo to be used, please let us know in advance. We cannot, however, honor requests to opt out of the use of your image or voice if you choose to ask a question during one of the event sessions.
---
Related Content