10th Annual Advanced Wage and Hour Conference
Thursday-Friday, September 10-11, 2020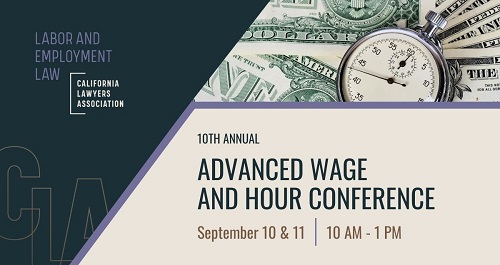 Purchase all four programs for only $75! Offer ends September 9.
Thursday, September 10
Session #1: As easy as A,B,C?…Impact of AB 5 on Worker Classification
10 a.m. – 11:30 a.m.
1.5 Hours MCLE
AB 5 codifies the application of the "ABC test" from the California Supreme Court decision in Dynamex Operations West, Inc. v. Superior Court of Los Angeles to determine if workers in California are employees or independent contractors and extends the test beyond wage order claims. The panel will discuss how to litigate misclassification cases in light of AB 5 and Dynamex from case inception to resolution, including settlement and plaintiff and defense perspectives.
Moderator: Esmeralda Zendejas. Speakers: Pascal Benyamini and Adrianne De Castro.
Session #2: Class Action and PAGA Cases in a Covid-19 World: A Practical Discussion
11:45 a.m. – 1:15 p.m.
1.5 Hours MCLE
A practical look at litigating class and PAGA wage and hour cases, from the Plaintiff's, Defendant's and expert's perspective. This panel will look at how collective and class actions are actually valued for settlement, and how to prepare for the relatively rare cases that proceed to trial. The panel will also discuss the new challenges and issues faced in a post-COVID-19 world and what they see as the future of wage and hour class and PAGA cases.
Moderator: Glenn Danas. Speakers: Arnab Banerjee, Elizabeth Arnold, and Matthew Sonne.
Friday, September 11
Session #3: The Annual Update: Recent Wage-and-Hour Developments
10 a.m. – 11:30 a.m.
1.5 Hours MCLE
Join our distinguished panelists as they provide key analysis of the most recent federal and state Supreme Court and Court of Appeals cases, as well as new legislation, and how these cases and new laws may impact the wage and hour litigation landscape.
Speakers: Melissa Grant and Julie Trotter.
Session #4: Judges Panel: Practical Tips for Litigating Wage and Hour Actions
11:45 a.m. – 1:15 p.m.
1.5 Hours MCLE
A perennial Conference favorite, a panel of judges will provide tips to help litigants avoid obstacles when navigating the ever-changing waters of wage and hour individual, class and PAGA representative actions. They will also provide insights into the impact of recent developments in wage and hour and class and PAGA action jurisprudence.
Moderator: Aaron Cole
Speakers:
Hon. Daniel J. Buckley
Hon. Lisa Hart Cole
Hon. Elaine Lu
Hon. Glenda Sanders
---