Sponsor the CLA & CJA Gala
YOUR IMPACT | SPONSORSHIP LEVELS | SIGN UP
The Gala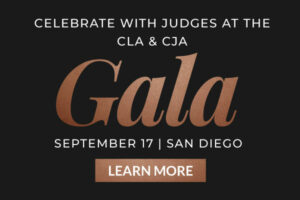 The California Lawyers Association and California Judges Association are hosting a Gala to celebrate the accomplishments of both organizations and donate to the respective Foundations. The Gala will take place on Saturday, September 17th, at the Hilton San Diego Bayfront Hotel.
The Gala's 500 guests enjoy a cocktail reception, dinner, and entertainment.
This year's Gala will feature the emcee talents of Andy Buckley from the hit show The Office.
You won't want to miss this event! All sponsorship levels include seating for 10 guests.
Your Impact
Sponsoring this prestigious black-tie event offers a unique opportunity to express your commitment to the efforts of the California Lawyers Foundation and California Judges Foundation. These efforts focus on DEI projects, access to justice, civics engagement, and scholarship funding.
When you sponsor the Gala, you are supporting a legal profession that mirrors our population, access to justice for all, and a society that understands the equalizing role of the rule of law and judicial branch.
---
Sponsorship Levels
Join in inspiring awe by lending your support as one of the following sponsor levels.
Diamond Sponsor | $50,000
As the exclusive Diamond Sponsor, your company will be featured as the headlining supporter for the Gala, earning you premium positioning in all pre- event marketing, signage and promotion, as well as signage and graphics during the event. This black-tie affair would not be complete without the sparkle of a diamond—a fitting and clear-cut opportunity for your company that boasts the following features.
EXCLUSIVE DIAMOND SPONSOR FEATURES:
Private pre-reception with the speaker and emcee along with CLA/CLF leadership
VIP table with preferred seating for ten (10) guests
A premium full-page back cover advertisement in the Gala program
Recognition as the headlining sponsor in pre-event marketing and signage
Recognition as the headlining sponsor in event signage and the Gala program
Visual use of company logo woven throughout the event
Share the stage with CLF and CJF leadership and receive verbal recognition and introduction as the headlining event sponsor during the Gala
Individual promotion item (vendor provided) placed at tables
---
Gold Sponsor | $25,000
As a Gold Sponsor, your company will be featured as a premier level partner for the Gala—an elegant affair that recognizes its supporters and leaves a lasting impression on its acclaimed guests. In addition to being part of that memory, you'll also receive the following.
EXCLUSIVE GOLD SPONSOR FEATURES:
Private pre-reception with the speaker and emcee along with CLA/CLF leadership
VIP table for ten (10) guests
Recognition as a Gold sponsor in pre-event marketing and signage
A premium full-page advertisement in the Gala program
Gold sponsor recognition in event signage and the Gala program
Verbal recognition during the Gala and acknowledgment of sponsorship level
---
Silver Sponsor | $10,000
Standard table for ten (10) guests
Recognition as a Silver sponsor in pre-event marketing and signage
One half-page advertisement in the Gala program
Silver level sponsor recognition in event signage and the program
Verbal recognition during the Gala and acknowledgment of sponsorship level
---
Bronze Sponsor | $5,000
Standard table for ten (10) guests
Recognition as a Bronze sponsor in pre-event marketing and signage
One quarter-page advertisement in the Gala program
Bronze level sponsor recognition in event signage and the program
Verbal recognition during the Gala and acknowledgment of sponsorship level
---
Supporting Sponsor | $2,500
Standard table for ten (10) guests
Recognition as a Supporting sponsor in pre-event marketing and signage
Supporting level sponsor recognition in event signage and the program
---
CLA & CJA Gala Sponsorship Form