Webinar: Appellations of Origin & Trademarks In The Legal Cannabis Industry
August 18, 2021
@
12:00 pm
–
1:00 pm
This program offers 1 parrticpatory MCLE credit.
Presented by the Cannabis Interest Group.
---
As "Napa" is to wine, to connoisseurs of cannabis the word/name "Humboldt" often immediately evokes a favorable image when used in conjunction with a cannabis product. So do other geographic terms. Does any one organization or entity have the right to control the use of the word "Humboldt" and other similar terms as applied to cannabis products? Should they? This roundtable discussion will address the rapidly developing law of appellations of origin (and related trademark issues including comparisons to certification and collective membership marks) as it applies to the legal cannabis industry – particularly in California. This discussion is bound to be of great interest to current trademark owners whose trademarks contain geographic terms.
Speakers: Mary Shapiro, Esq. and Luke Zimmerman, Esq.
Moderator: David P. Branfman, Esq.
---

Mary L. Shapiro started her law firm in San Francisco's Financial District in 2009 after ten years at the renowned firm Townsend and Townsend and Crew, LLP. At Evoke Law, Mary counsels a broad range of clients – including for more than 10 years clients in the legal cannabis industry – in owning, enforcing, protecting, and profiting from their intellectual property. True to her founding mission of providing practical and affordable intellectual property legal counsel, she simultaneously adds real business value (rather than merely creating legal expenses) for private and public companies alike. As an experienced intellectual property attorney, Mary's combination of legal, business and marketing perspectives reach far beyond merely registering and enforcing trademarks and copyrights.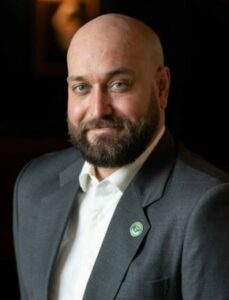 Luke Zimmerman, Esq. LL.M obtained his undergraduate degree in philosophy from the University of Oregon at Eugene and then graduated from Thomas Jefferson School of Law, in San Diego California, as a member of the Pro Bono Honors Society. His interest in international trade and investment law led him to the Netherlands where he obtained a Masters of Law from the University of Amsterdam. Luke formed The Law Office of Luke S. Zimmerman APC, where he assists entrepreneurs in the emerging cannabis industry and helps them protect their intellectual property. A core mission of the Law Office of Luke S. Zimmerman is drug policy reform, which is why Luke volunteers on the Clemency Project 2014. Luke currently splits his time working with clients in California, as well as nationally on trademark issues. Luke is also certified by Oaksterdam University, in both, beginner and advanced courses and has received advanced training and certification in mediation, alternative dispute resolution (ADR), and cross cultural competencies.
David P. Branfman has been practicing law in San Diego County for over forty years. His practice focuses on IP and entertainment law, including trademarks, domain names, copyrights, trade secrets, licensing, motion pictures & TV, and music. Since 2010 he has specialized in the intersection between IP law and the legal cannabis industry. He is Chair of the Cannabis Interest Group of the IP Section of the California Lawyers Association and is an IP law instructor at the University of California, San Diego Executive Perspective for Scientists & Engineers program. Dave has spoken multiple times at NORML Legal Committee conferences, the International Cannabis Business Conference, and several California law schools about IP law and cannabis. He is also a regular speaker at Comic-Con. He was a member of the Board of Directors from 1998 – 2007. David is recognized by his peers and has been selected to Southern California Super Lawyers for intellectual property law 10 out of the last 13 years and for the last 6 years consecutively.