Deconstructing the November Ballot: An Examination of the Statewide Propositions
October 19, 2020
@
12:00 pm
–
1:30 pm
Free event! No MCLE.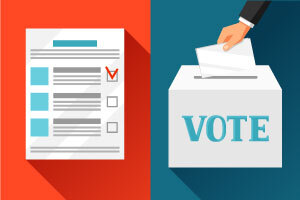 California is set for a blockbuster year with a dozen different propositions that would:
Issue $5.5 billion in bonds for California's stem cell research institute.
Revise Proposition 13, the landmark 1978 initiative that limited how much property taxes could be increased, by requiring commercial, industrial, and some agricultural property to be taxed based on their market value, rather than their purchase price.
Repeal Proposition 209, the constitutional amendment California voters passed in 1996 prohibiting affirmative action.
Amend the California Constitution to allow people on parole for felony convictions to vote.
Allow 17-year-olds who will be 18 at the time of the next general election to vote in primaries and special elections.
Change laws relating to property tax assessment transfers and inheritance.
Change laws relating to criminal sentencing, parole, and DNA collection.
Expand the power of local governments to impose rent control.
Classify app-based drivers for ride-share companies like Uber and Lyft as independent contractors rather than employees.
Enact the California Privacy Rights Act of 2020, expanding and amending provisions of the California Consumer Privacy Act of 2018.
Require kidney dialysis clinics to have at least one physician on site while patients are being treated and to report patient infection data to California health officials.
Determine whether to uphold or repeal a 2018 law that replaced cash bail with risk assessments for suspects awaiting trial.
Each ballot proposition has a unique backstory. This program will analyze California's process for citizen-made law and the propositions on the November ballot, including legal and political issues surrounding ballot titles and summaries; signature-gathering; ballot measure campaigns and how issues are sold to the public; supporters, opponents, and the reasons for the positions; major sources of funding; potential impact; and the interplay with the Legislature.
Speakers
Mary-Beth Moylan
Associate Dean for Academic Affairs and Experiential Learning, Professor of Lawyering Skills
University of the Pacific, McGeorge School of Law
Associate Dean Moylan has a long-standing passion for and expertise in politics and government. Since 2003, she has supervised the publication of the California Initiative Review, an online journal providing objective and neutral analysis of each statewide ballot proposition. The California Initiative Review is published in advance of every California statewide general election. Associate Dean Moylan and her students also hold a public forum for explanation and discussion of the statewide ballot propositions, and Associate Dean Moylan regularly provides a summary of the propositions to Capital Public Radio's Insight program in advance of each general election. She launched her legal career in Sacramento as a law clerk for the Honorable Lawrence K. Karlton of the United States District Court for the Eastern District of California. She then practiced election law with Olson, Hagel, & Fishburn, and general civil litigation with Downey Brand LLP.
Ned Wigglesworth
CEO, Spectrum Campaigns
Spectrum Campaigns specializes in ballot measure campaigns and issue advocacy, with a focus on complex issue areas such as health care, energy and state finance/governance. Mr. Wigglesworth has worked with stakeholders across the political spectrum on more than 40 initiative campaigns since entering public affairs 15 years ago. His clients have included Fortune 50 corporations, labor, trade associations, health care provider groups and nonprofit organizations. Prior to starting Spectrum Campaigns in 2016, Mr. Wigglesworth was a partner at Redwood Pacific Public Affairs (the successor firm to Goddard Claussen); the Vice President of Communications for the California Medical Association; a policy advocate at Common Cause and a litigation attorney at McDermott, Will and Emery.
Moderator: Saul Bercovitch, Director of Governmental Affairs, California Lawyers Association