CLA Yoga Series: Vinyasa with Jay Co
March 16
@
6:00 pm
–
7:00 pm
Free event! Presented by the CLA Health and Wellness Committee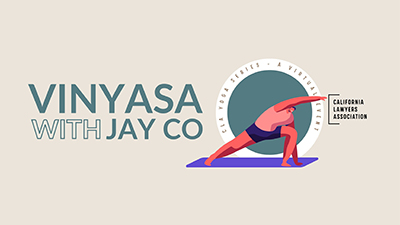 This vinyasa (flow) style asana practice leans toward strength and active mobility involving shorter posture holds and dynamic transitions at a challenging pace. This class is like lifting weights, stretching, and meditating all at the same time.
A yoga mat or simply some clear floor space will be needed to participate.
Registration Information
There are two steps necessary to register for this free class:
1) https://share.fitdegree.com/?share=64076a8fd998b
Use the link above to "purchase" a free class.
If you do not already have a fitDEGREEE account, you will be prompted to create one prior to completing the purchase. Once your account is established and your free class has been purchased, click "Done" and then, click the class registration link provided below.
2) https://share.fitdegree.com/?c=1690326
You should automatically be signed in. Click the blue "Register" button; following you should see the "CA Lawyers Special Class" within the registration window. Click the blue register button.
Links to live streamed sessions are sent to your email 15 minutes before class. If you don't see it, check your spam/junk folder. You may want to add Yogazan to your safe senders list. (How?)
You can also find your teacher's zoom link in the teacher bio section of your class description anywhere you access the schedule (web, webapp, mobile app).
Class links are administered by Yogazan. Please contact them directly if you seek any assistance at connect@yogaraj.org.