By Heather Rosing and Jim Hill
July 2019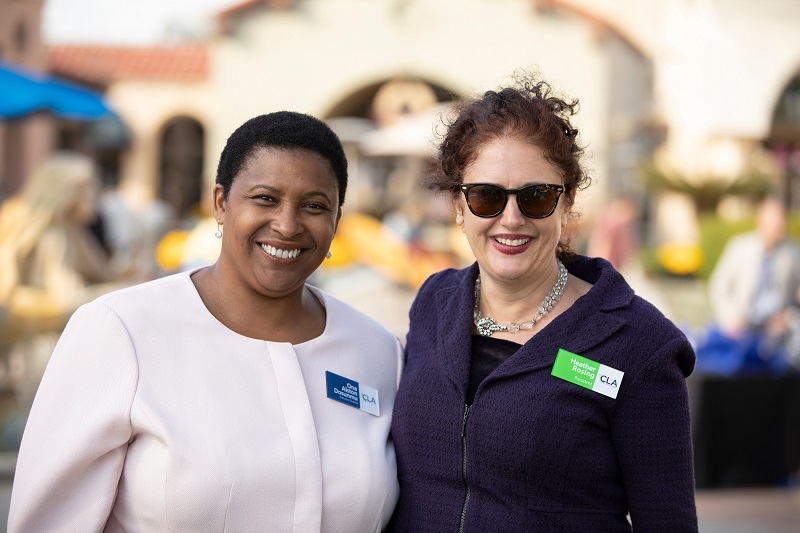 We're happy to report that CLA's first-ever Solo and Small Firm Summit, which was held in Huntington Beach last month, was a smash hit! Given that the majority of practitioners (and thus our members) in California are in solo practice or with small firms, it is critical that we provide cutting-edge and practical resources to this demographic.
We'd like to especially thank our chair Cindy Elkins, our vice chair Jeremy Evans, our Solo and Small Firm Section Executive Committee, and our terrific CLA staff and contractors, including Tricia Horan and Carol Zlongst, for pulling together such an amazing event. And an additional thank you to CLA officers and board members Perry Segal, Jeremy Evans, Jim Hill and Emilio Varanini for attending.
When CLA got up and running last January, we had very little – a skeletal holdover staff from the State Bar, a small (and admittedly dismal) rented space, no real technology, no marketing or membership resources, no infrastructure or policies. But we had a vision. Our collective goal was to ensure the continued success and growth of our incredible 16 Sections and the California Young Lawyers Association and to build THE Bar Association for all California attorneys. We look back on what we hoped would happen and marvel at what we have achieved. We have been successful beyond all expectations, with a tremendous new executive director, full support for our Sections, professional marketing resources, deep partnerships across the state, incredible name recognition, a strong advocacy arm and office of bar relations, and stable (and soon to be growing) membership numbers. We can all be proud of what we have collectively accomplished, and know we can accomplish so much more.
One of the components of our vision was to hold a series of self-supporting organization-wide events, including the Annual Meeting, the Solo and Small Firm Summit, and membership/kickoff receptions. The Annual Meeting and the Solo and Small Firm Summit were to be based on the format used by the State Bar for many years (before it decided to stop hosting both events).
And now for the recap. Following a meeting of our Education Chairs, we kicked off with a plenary luncheon event, programming and an awesome reception on Thursday. Cindy and her team arranged for an entire vendor hall, with an amazing array of sponsors and resources, including our partner, Fastcase. The State Bar had a table with information about the Lawyer Assistance Program and ethics related resources. On Friday, the luncheon program featured California Supreme Court Justice Carol Corrigan. It was amazing. A panel later that day featured Appellate Court Justices Eileen Moore and David Thompson, along with Orange County Superior Court Judge Pete Wilson. The Solo and Small Firm Section hosted a wonderful outdoor reception that evening, presenting several awards. The program concluded on Friday after a series of final CLE programs.
We have received extremely positive feedback. Our attendees and vendors loved the venue and thought the programming was top-notch, providing practical solutions in the areas of technology and law practice management in particular. It was a dynamic and invigorating event that proved our value and increased the visibility of our CLA brand.
And, of course, the good news is that this is just one amazing conference of many offered by CLA. This year's Litigation Summit, the Real Property Annual Conference, and other programs featured professional agendas and sophisticated content. Our Environmental Law Section hosts an award-winning conference in Yosemite that attracts 800 people every year. The list goes on. Through our organization-wide and section specific conferences, we are providing tremendous value to our members and the legal community at large.
We hope that everyone will join us at the next big organization-wide event, which is the Annual Meeting in Monterey, October 10-12. Kathy Brewer, Brian Arbetter, and their dedicated committee have been already hard at work on planning our 75 educational sessions, networking opportunities, awards, a Civic Education Town Hall, events with the California Judges Association and more.
Thank you to everyone for contributing to the vision of CLA and its sections!
---