Please Welcome Our New CEO and Executive Director
By President Jeremy M. Evans and
Chair of the Board of Representatives Ryan M.F. Baron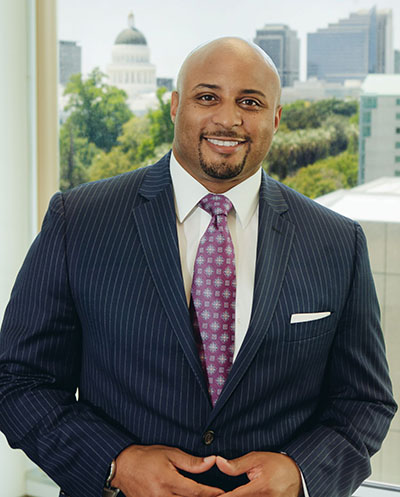 We are thrilled to announce the arrival this month of CLA's new CEO and Executive Director, Oyango A. Snell. He comes to us from the Western States Petroleum Association (WSPA), where he served as the organization's first in-house general counsel in its 114-year history.
Oyango brings significant association management and government relations experience to CLA at a time when we are focused on growing membership in our voluntary bar association and increasing engagement with the three branches of state government.
Since March 2017, he has served as Senior Vice President, General Counsel & Corporate Secretary at WSPA, a nonprofit business association organized similarly to CLA and based in Sacramento. Among his many achievements, he created a first-in-class in-house legal advocacy and human resources program, provided legal advocacy for monumental climate policy initiatives to reduce greenhouse gas emissions, and created a leadership initiative for women in the oil and natural gas industry.
Previously, Oyango handled government relations for the Property Casualty Insurers Association of America (PCI) in Washington, D.C., the Office of the Ohio Consumers' Counsel, and in private practice. As many of our members who work in solo and small firms will appreciate, Oyango had his own solo practice in Ohio for a little over two years.
His long list of qualifications includes being credentialed as a Certified Association Executive (CAE) by the American Society of Association Executives and earning his Juris Doctor (JD) from The Ohio State University, Moritz College of Law. He also holds a master's degree in business administration (MBA) from Franklin University in Columbus, Ohio, and a bachelor's degree in political science from Central State University in Wilberforce, Ohio.
As volunteer leaders, we know that choosing a person to helm our executive team is perhaps the most significant decision we will make. Although CLA was only founded in 2018 – upon separation by the California Legislature from the State Bar – our Sections are endowed with a long and proud history.
Oyango is the perfect marriage in personality, character, and discipline to be our next CEO and Executive Director. We are excited to work together to grow the organization in our next chapter by providing exemplary services and programming to existing members and adding new members, new practice areas, amazing events, and leading in education, legislative affairs, and relationships across the great State of California and the globe.
We cannot wait for you to meet him. Oyango will have a smooth transition when he joins us on December 13, thanks to the groundwork laid by Ona Alston Dosunmu and the ongoing work of Associate Executive Directors Tricia Horan and Ellen Miller, who have stepped up to serve as interim co-executive directors while we conducted the search.
Meanwhile, these other activities and updates might interest you:
And finally, with the holiday season in full swing, we hope you take some much-needed time away from work to spend with family and friends, rest, and replenish. Thank you to our Health and Wellness Committee for collecting the resources to help you do just that. We are thankful for your leadership, service, and membership in the community and the California Lawyers Association.
Truly wishing you and yours a wonderful holiday season!
---