Entertainment and Media Execs Identify Latest Trends at IP Conference
By Jonathan Lurie
The 2023 Intellectual Property in Entertainment and Media Conference, sponsored by CLA's IP Law Section last month, was hugely successful. We want to thank all our attendees for joining us! After a forced hiatus from a conference with such a long history, it was so exciting to see attorneys passionate about the entertainment industry and entertainment law come together again in sunny Los Angeles. We also want to thank our amazing speakers, true visionaries of the industry, and experts on the cutting edge of thought when it comes to entertainment law issues.
Industry Trends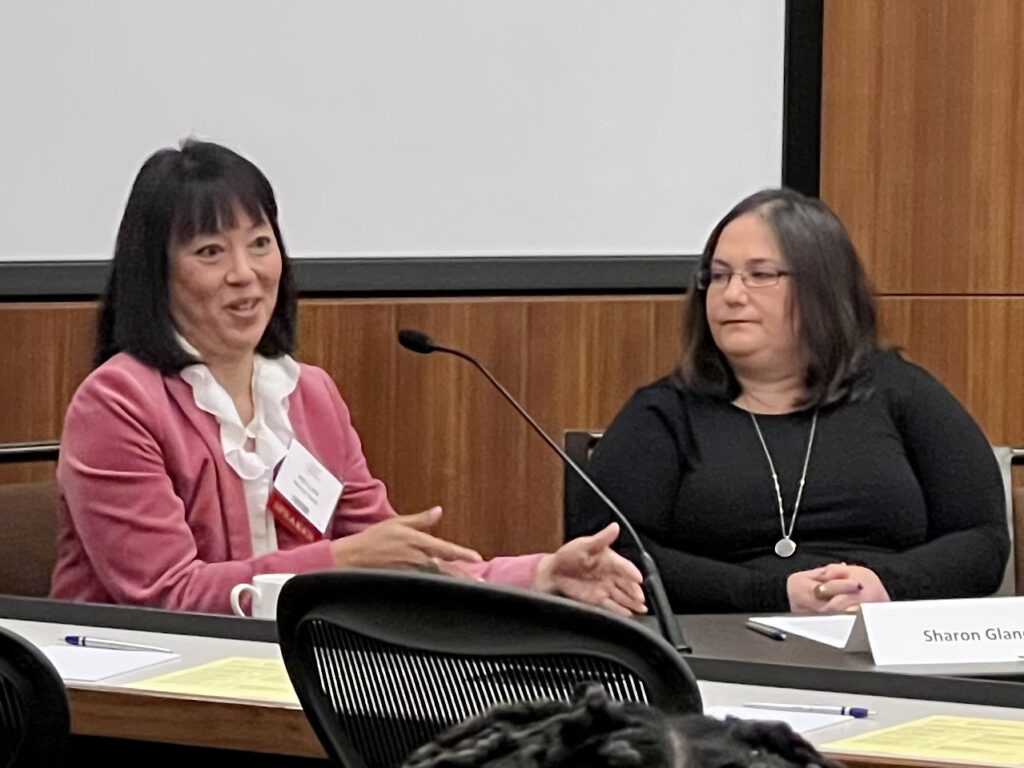 The day  was a barnburner from start to finish, with gripping panels from the word "go." The panels included a fantastic summary of industry trends from our keynote speaker Mei-lan Stark, Executive Vice President and Chief Counsel, Intellectual Property for NBC Universal. Mei-lan was interviewed by the fantastic Sharon Glancz (Senior Director, Business & Legal Affairs, Syndication Studios, NBCUniversal Television and Streaming), and they worked through the evolution of trends in distribution and release cycles during COVID and in the recovering world. Mei-lan answered questions about what is next in entertainment, what legal trends will have the most impact on the industry, and her own approaches to these changing landscapes.
Content Distribution
We then explored managing content and trends in Asian-Pacific Markets with an all-star panel featuring Michael Chang (VP of Business and Legal Affairs at Warner Bros.), Yaphett Powell (VP of International Business Affairs, Acquisitions & Licensing at Disney International Content Studios), and Rea Dora Nepomuceno (Business and Legal Affairs at Lionsgate). These three looked to the art of the deal in distributing content in Asia-Pacific markets, how content is consumed in those markets, and how that impacts the format and timetables of distribution deals when you leave the markets of the U.S. and Europe.
Fair Use and Copyright Recapture
From there, we moved to a robust exploration of some of the hottest developing legal topics in the industry today. We started with a look at clearing film and television on fair use basis from two people managing both clearance and litigation on the topic every day—Lisa A. Callif (Donaldson Callif Perez, LLP) and Jeremy Goldman (Partner, Frankfurt Kurnit Klein & Selz PC). The discussion touched on everything from whether a film can truly rely on a doctrine as fact-specific as fair use and how the speakers handle both the assessment and recommendations for fair use clearance, looking to both for ensuring insurance and managing risk, and how to handle situations where that fair use assessment is challenged by litigation.
The topic then turned to an issue impacting films such as Top Gun Maverick, Friday the 13th, and Predator—copyright recapture. We joined two professors published on the very topic—Marc Greenburg (Professor of Law and Founding Director of the IP Law Program at Golden Gate University) and Kevin J. Greene (John J. Schumacher Chair and Professor of Law, Southwestern Law School)—for a spirited debate about how copyright recapture functions and fails to function as intended. Professor Greene even teased some elements of his upcoming book, the first work of horror-fiction to be based on the history of copyright. Ultimately, these two personalities filled the room as they covered how recapture has unfolded as a doctrine in practice. Professor Greene made moving arguments as to how these doctrines have had disparate—and profoundly negative—impacts on the African-American community. They discussed ways in which copyright recapture has failed to achieve many of the goals for which it was first created.
Managing Influencers
After this, our next panelists, Hannah E. Taylor (Frankfurt Kurnit Klein & Selz PC) and Denise Howell (Internet and Technology Lawyer, Host + Contributor at Twit TV), looked into an ever-growing issue in a world where advertising is turned on its head and competing for attention is more difficult than ever—managing influencer sponsorship agreements. With studies showing millennials trust influencer endorsements up to five times as much as a standard celebrity endorsement, we were fortunate to be joined by these two individuals who have stayed on the cutting edge of managing the shifting necessities agreements, FTC compliance, and more when it comes to one of the fastest growing markets in advertising.
Music Copyright Debate
Finally, we had one last treat to enjoy, and we dove into a topic that had seen movement even in the week of the conference in the form of the Ed Sheeran case—Substantial Similarity in Music Copyright. Our panelists, Peter J. Anderson (Davis Wright Tremaine, perhaps better known as the attorney who represented Led Zeppelin in the famous Skidmore case) and Peter S. Menell (Professor of Law and Co-Director of the Berkeley Center for Law & Technology at UC Berkeley) faced a rigorous interview on the state and issues raised by modern substantial similarity trends from the IP Section's own Copyright Interest Group Vice-Chair John Wierzbicki. In a fascinating back-and-forth filled with keen insight and a few disagreements on how the law should operate, these two discussed what the standard is, what it should be, potential alternative approaches, and more.
Reception and Next Steps
We rounded out the day with a lovely reception filled with inspiring conversation, reunions with old friends, meetings with new friends, and above all, a deep appreciation for the complexities of the industry we work in.
Suffice it to say, the IP in Entertainment Conference is back and stronger than ever! We look forward to seeing you at future events because as surely as the entertainment industry and entertainment law will continue to evolve and change, the IP in Entertainment Conference will be back again to dive deep into the ever-changing landscape of entertainment and media law.
Jonathan Lurie is Secretary/Treasurer for California Lawyers Association's Intellectual Property Section and Chair of the Entertainment and Sports Interest Group. A founding partner of the Law Offices of Lurie and Ferri, his career has seen him assist business and individual clients with issues ranging from intellectual property litigation and transactions to business organization to privacy compliance to employment law and more. He has a passion for helping entrepreneurs, as well as tech and entertainment-focused startups, with the many legal issues a growing business will face on the way to achieving the dreams of their founders.
---
Related Content