Declutter Your Space, Declutter Your Mind
By Erin Joyce, Esq. and Raquel Greenberg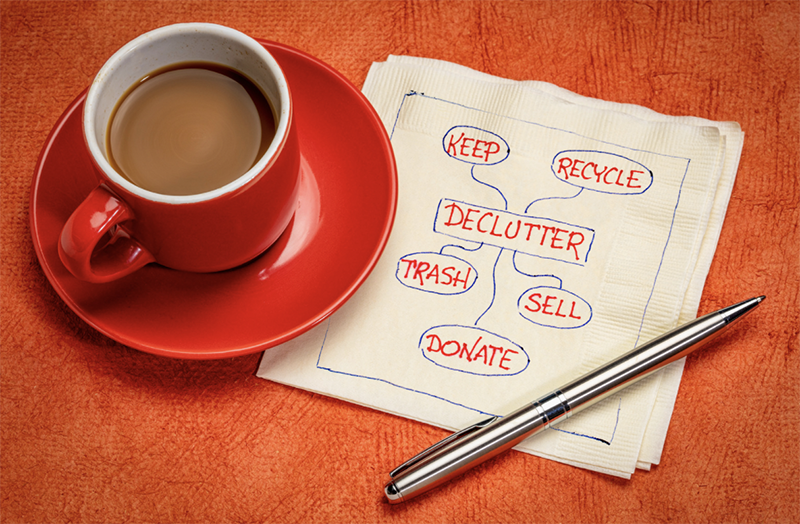 Decluttering is about much more than having space on your desk to place your laptop or room in the closet for new clothes. Having an abundance of clutter in our professional and personal spaces is a source of anxiety and unnecessary stress. It can be distracting, draining, and hold us back from productive work. Tidying our physical spaces and clearing out clutter can put us in a more positive, peaceful state of mind.
As daunting as it is to begin tidying our spaces, reducing the junk in our lives benefits our mental health. First, decluttering can save us valuable time. For example, clearing out unwanted clothing items in the closet means less time spent finding what you want to wear. Decluttering reduces the stress of losing things and increases our ability to find what we need.
In our professional lives, having a disorganized desk can be frustrating and make it impossible to work. The time it takes to tidy your workspace pays off, as our brains can focus on the task at hand instead of physical clutter.
Second, research shows that keeping one's home tidy can reduce stress and encourage healthy habits. In a University of California study, participants who described their home as messy exhibited increased cortisol levels and anxiety. Meanwhile, a study at Indiana University discovered that people who keep their homes tidy are physically healthier than people with disorganized homes. When we feel less stressed by our surroundings, we can sleep better and make better decisions throughout the day. A peaceful home or work environment creates a sense of comfort.
Not to mention, cleaning out junk can be a mindfulness exercise. We have emotional attachments to many items in our homes, and it can be overwhelming to think about getting rid of them. In fact, a study by researchers at Yale University found that, for people with hoarding tendencies, discarding items can activate areas of the brain associated with pain perception. However, letting go of things that we've held onto is a healthy practice that gives us relief. It lets us use our decision-making skills and feel in control of our lives. Letting go also adds value to the belongings we keep that are most important to us.
While it can feel like there's too much going on in our heads, having a feeling of contentment with our surroundings can make us feel more at ease. A survey found that 80% of people in the U.K. are emotionally influenced by the state of their homes, with less messy spaces making them happier.
Furthermore, tidying our environment makes us feel productive, accomplished, and motivated. It's an activity with immediate, tangible results. And, once we reduce the amount of junk in our space, it becomes more manageable to organize what we do have.
Clearing out clutter takes time and can be difficult to start. Take it step by step and start with organizing one spot, like a messy cupboard, rather than the entire space. Set reasonable expectations and add tidying to your regular routine. Do a little bit of decluttering each day, and over time, the feeling of peace in your space will carry over to your mind.
Erin Joyce of Erin Joyce Law in Pasadena is Co-Vice Chair of CLA's Health and Wellness Committee.
Raquel Greenberg is a Law Clerk with Erin Joyce Law and a graduate of USC Annenberg School of Journalism. She plans to attend law school in 2022.
---