Third-Party Closing Opinions: California Limited Liability Companies and Partnerships (2016)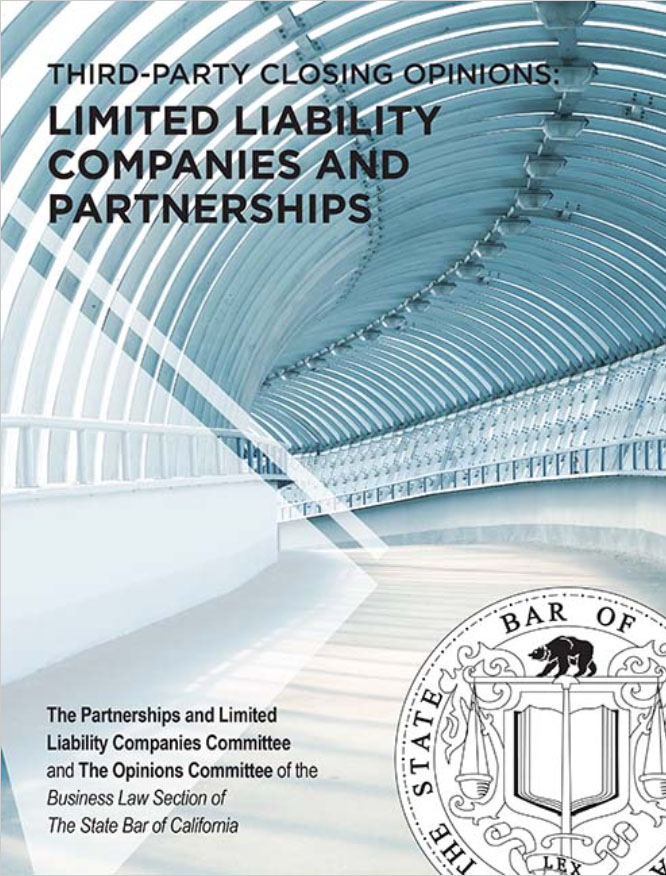 The Partnerships and Limited Liability Companies Committee and the Opinions Committee of the State Bar Business Law Section have published their report, Third-Party Closing Opinions: Limited Liability Companies and Partnerships (the "Report"). The Report updates and supersedes entirely the previous 1998 Report on Legal Opinions Concerning California Partnerships and 2000 Report on Legal Opinions Concerning California Limited Liability Companies (collectively, the "Prior Reports"). It reflects the major changes in applicable law—notably the California Revised Uniform Limited Liability Company Act (Cal. Corp. Code §§17701.01–17713.13) and the Uniform Limited Partnership Act of 2008 (Cal.. Corp. Code §§15900–15912.07)—as well as the changes in opinion practice since publication of the Prior Reports.
Among other things, the Report includes a sample third-party closing opinion and discussion of the following topics: the factual examination required to render an opinion; the factual assumptions that may be made; and the specific opinions illustrated by the sample opinion, including status, power to enter into and perform obligations, authorization, execution and delivery, remedies or enforceability opinions, consents and approvals, no breach or default, valid issuance and admission, and the obligations of members or limited partners. It also include discussion of opinions for general and limited liability partnerships, confirmations, and qualifications, as well as the preparation and delivery by California counsel of opinions on behalf of Delaware LLCs and limited partnerships.

The Report has several helpful appendices, including data from the California Secretary of State on entity formations from 2000 through 2015, a complete sample opinion, sample officer's certificates, a glossary of defined terms, a table of authorities, and a bibliography.
Click here to order a print paperback version of the book and a postcard with a link to the e-book version.
---