Gordon K. Davidson Receives Business Law Section's 2019 Lifetime Achievement Award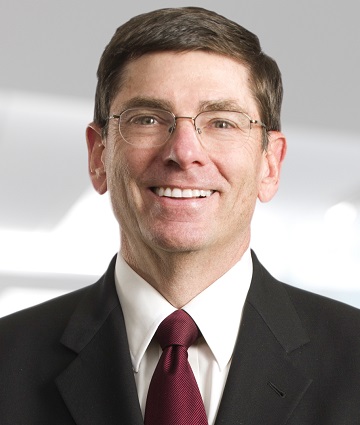 The Business Law Section is pleased to announce that Gordon "Gordy" K. Davidson will receive the Business Law Section's 2019 Lifetime Achievement Award. The award is given annually to a California lawyer "who over an extended period has made significant contributions to the Section or to business law generally in the State of California and who has achieved high status in the legal community." The Lifetime Achievement Award will be presented to Mr. Davidson at the California Lawyers Association Annual Meeting in Monterey. The Business Law Section presents the award annually at its breakfast, which this year will be held on October 11, 2019, at 7:30 a.m.
You may have seen Gordy in the financial news lately, as he and a team from Fenwick & West just completed a $10.7 billion sale involving leading cybersecurity company Symantec Corp. Gordy has been the leader and lifeblood of Fenwick & West's Silicon Valley presence for many years; he was around when Silicon Valley was developing into the tech capital of the world. Gordy's service to the business law community makes him very deserving of this prestigious honor.
Gordy was born in Port Chester, New York, but spent most of his childhood in Arlington, Massachusetts. Gordy's parents were children of the Depression and World War II eras. His mother, Charlotte, a graduate of Barnard, worked on the technical drawings at the Manhattan Project during World War II, while his father, Kirby, a graduate of Columbia, served as an officer in the Coast Guard. Gordy and his brother and sister were products of the baby boom after World War II ended. After the war, his father started a Chevrolet dealership in Medford (a suburb of Boston), and his mother continued working as a mechanical designer while raising Gordy and his siblings. His now-deceased brother, Greg, succeeded his father in operating the dealership and his sister Gwen was the dealership's Chief Financial Officer.
So how did Gordy end up in Silicon Valley working on billion-dollar deals? After high school, tired of the New England winters, Gordy was looking for a quality engineering program at a co-ed university in a warm climate. Gordy chose Stanford, in sunny California. Gordy says he chose electrical engineering as his major because he was better at math and science than social studies. His choice also was influenced by what was going on in the science world at the time. When he was in third grade, Sputnik 1 became the first satellite launched into Earth's orbit. That had an impact on Gordy, as did the ensuing space race and the advent of the computer. The science and technology bug bit Gordy hard, which influenced how his legal career started.
At Stanford, Gordy met his wife Carolyn and thought his life path would take him down the road to be an engineer. He earned his Bachelor of Science in Electrical Engineering from Stanford in 1970 and married Carolyn shortly thereafter. A year later, with a fellowship from the National Science Foundation (whose Graduate Research Fellowship Program is the country's oldest fellowship program directly supporting graduate students in science, technology, engineering and mathematics fields), he obtained his Master of Science in Electrical Engineering and Computer Systems from Stanford. With the impressive education he received at Stanford, Gordy dreamed that he would one day be the founder of a technology startup company.
The summer after Gordy's undergraduate senior year at Stanford, a friend introduced him to an exciting opportunity at the Stanford Research Institute. There, he worked in a group led by Douglas Engelbart, the inventor of the computer mouse and a visionary scientist whose ideas about technology's potential to expand human intelligence led to a host of other inventions that became the basis for both the Internet and the modern personal computer. To this day, Gordy says Mr. Engelbart was a role model and an inspiration in Gordy's interests and career development.
Gordy attributes his shift to the legal field to serendipity. After completing his graduate studies in engineering, Gordy worked as a computer systems engineer at Measurex Corporation. Measurex was a startup company adapting the world's first minicomputers to operate paper mills. Gordy recalls that Measurex used a Hewlett-Packard 2116 computer with only 32,000 words of memory to run the process control for an entire paper mill. He was hired by one of the founders, and one of his assignments was to assist the CFO in selecting and negotiating with vendors. Gordy found that process fun, so he asked the company's attorney one day at lunch how he could work with startups for the rest of his life. The answer: become a lawyer! It just so happened that one of Gordy's neighbors in Palo Alto was studying for the LSAT. Gordy borrowed his neighbor's prep book and, on a lark, took the LSAT. Three years later (having continued to work at Measurex) and with the help of his wife Carolyn, who was an editor of college textbooks at Prentice-Hall, he graduated from Stanford Law School, Order of the Coif. And thus began Gordy's path to becoming a lawyer.
Gordy's legal career began with a judicial clerkship for Judge Ben C. Duniway in the Ninth Circuit Court of Appeals in San Francisco. Gordy describes Judge Duniway as an extremely brilliant jurist and a kind man with a wonderful sense of humor. Gordy speaks fondly of Judge Duniway's efforts to improve his writing. Judge Duniway had a "no adverb" rule that sticks with Gordy to this day. Judge Duniway thought that using adverbs indicates that you are not sure what you are trying to say, as in "appellants are wrong" is stronger than "appellants are clearly wrong."
Gordy had big plans after law school with his good friend and law school classmate Brick Susko. Gordy and Brick shared a love of technology and dreamed of starting their own law firm to represent startup companies. They realized that the major San Francisco law firms did not recognize what was happening in Silicon Valley, so starting their own law firm was the plan. While Gordy was clerking, Brick became the first summer associate at what is now Fenwick & West (see below), but changed his mind about going into practice with Gordy at the last minute, opting for the opportunity offered by a job at Cleary Gottlieb in New York City, where he spent his entire brilliant career until he passed away in June of 2017.
Undeterred, after his clerkship with Judge Duniway, Gordy began as an associate at a then newlyformed law firm in the heart of Silicon Valley (before "Silicon Valley" existed). The Fenwick firm, founded by Bill Fenwick and three other visionary lawyers who left Cleary Gottlieb in 1972, embraced a vision that greatly appealed to Gordy: a shared belief that technology would revolutionize the business world and there would be a need to pioneer the legal work for those technological innovations. The four founding attorneys opened their first office in Palo Alto near where they saw the technology developing, and Fenwick became one of the first technology law firms in the world.
Gordy tells a wonderful story about his start at Fenwick. While he had always had a vision of being a corporate attorney, he wisely wanted to know how the court system worked, and to learn about judges, juries, and litigation. So, in 1975, when he joined Fenwick, he began his legal career as a litigator, working with Bill Fenwick for the high-end stereo company Pioneer Electronics. The Fenwick firm represented Pioneer in lawsuits against more than 50 audio retail chains for discounting Pioneer products, which gave the firm plenty of work to do. But then Congress repealed the 40-year old fair-trade laws, mooting all of the lawsuits. Thereafter, retailers were caught advertising Pioneer brand products at discount prices, but, when customers asked to buy the advertised products, claiming to be out of stock–a classic "bait and switch" scheme. After having sued Pioneer retailers for discounting Pioneer products just months earlier, Bill Fenwick then convinced Pioneer to sue the same retailers for not discounting Pioneer products, in what Gordy calls one of the most brilliant legal maneuvers he has seen.
The Pioneer litigation helped open the door for the Fenwick firm to represent startup technology companies. A duo named Steve Jobs and Steve Wozniak, whose names you may recognize as the founders of Apple Computer, were looking for a law firm with experience representing consumer electronics companies. Well, because of Fenwick's experience representing Pioneer, the duo chose the Fenwick firm after interviewing a dozen or so other law firms. Fenwick incorporated Apple Computer in 1976, which led to a wonderful cascade of technology company clients for the firm.
When Gordy started at Fenwick, it had six attorneys. Gordy recalls Bill Fenwick saying, "In five years, we will have 50 lawyers." That turned out to be (almost) true; now the firm has over 350 lawyers, thanks to Gordy's leadership and excellence over the past 40 years.
Gordy was elected Chairman of the firm in 1995. He had two conditions to accepting the position: there would be annual elections for the Chairman position, and there would be an eight-year term limit. Eighteen annual elections later, in 2013, Gordy handed over the reins to Richard Dickson, which allowed Gordy to continue his active corporate practice on a full-time basis. He remains an ongoing resource to the firm's leadership.
Gordy's list of career milestones is lengthy and impressive. He has acted as lead counsel for hundreds of startup companies, more than 50 initial public offerings, and over 100 mergers and acquisitions, valued at more than $75 billion in the aggregate. Symantec is one of Gordy's oldest current clients. He has represented Symantec from its incorporation in 1982 through its initial public offering in 1989; its acquisition of Norton antivirus; its acquisition and sale of Veritas Software; its purchase of Blue Coat Systems; its acquisition of Lifelock, Inc.; and its most recent $10.7 billion sale of its Enterprise Security assets to Broadcom, Inc. We would be remiss if we did not mention the firm's involvement in the $19 billion acquisition of WhatsApp, Inc. by Facebook. Ask Gordy about that one the next time you see him.
Gordy's list of individual awards and recognitions is similarly impressive. He has been ranked for many years by Chambers USA as a Star Individual in Venture Capital in California, first tier nationally in Startups and Emerging Companies, first tier in California and the Western United States in Capital Markets, and first tier in Northern California in Corporate/M&A. Gordy has been named by the National Law Journal as one of the 100 Most Influential Lawyers in America and by The Best Lawyers in America as "Corporate Lawyer of the Year" for the Silicon Valley. He is a member of the American College of Governance Counsel and has served on the boards of directors of non-profit organizations, including BayBio, Children's Health Council, Pacific Community Ventures, and Fresh Lifelines for Youth. As you can imagine, this list of recognitions just scratches the surface.
Instead of talking about his individual accolades, however, Gordy would much rather talk about the culture of collegiality at the firm where he has spent his whole career. Gordy uses words like "humble" and "selfless" when talking about his colleagues at the firm, describing an "in it together, trust and respect each other" atmosphere. After leading the firm from the mid-90s until the mid-2010s, Gordy deserves a lot of credit for that culture. That culture has also served the Business Law Section well, as the firm has supported and encouraged its attorneys to participate and serve in leadership for the Section over the years.
Gordy is proud of the firm's commitment to promoting diversity and inclusion, both within the firm and throughout the legal profession. For nearly five decades, the firm has actively promoted an open and inclusive work environment and committed significant resources towards improving diversity efforts at every level. Under Gordy's leadership, and to this day, the firm actively recruits diverse attorneys – race, gender, sexual orientation, physical ability, geographic/ cultural background – through numerous channels. That must be why Fenwick is ranked annually among the 10 most diverse U.S. law firms by The American Lawyer and has achieved similar rankings by Law360 for both minority attorneys among similar size firms and minority equity partners.
Gordy's keen interest in technology and instinct to pursue the business model of working with startups from birth to maturity has served the business law community in California well. Gordy and his firm's ability to perform at a high level, in innovative and high stakes situations, makes him well-deserving of the Lifetime Achievement Award. Congratulations, Gordy, and, on behalf of the Business Law Section, we thank you for all you have done for the business and legal community in the State of California!
---