---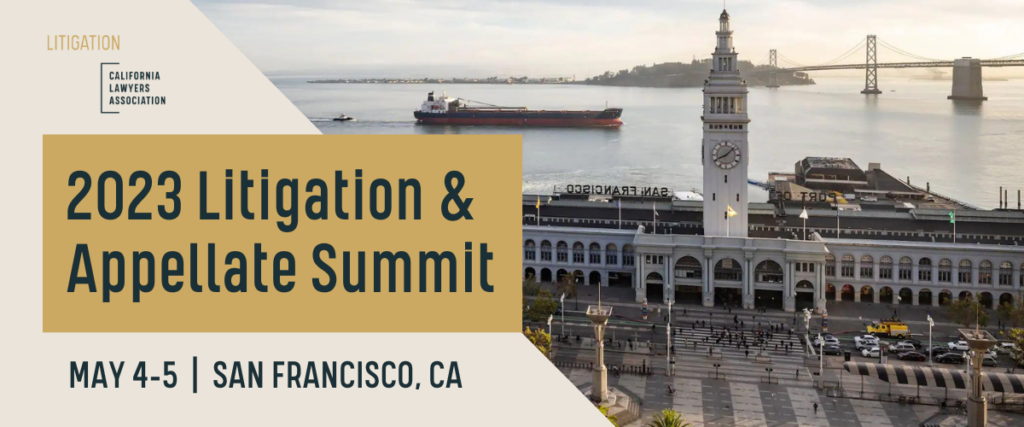 ---
May 4-5, 2023 | San Francisco
Earn up to 13.25 Hours CLE Credit including Implicit Bias and Legal Ethics
Want to sponsor? Learn more here!
---
---
The 2023 Litigation and Appellate Summit features a variety of programs designed to provide educational opportunities, resources, and insights. With the Summit making a return to in-person, attendees can experience every session alongside peers and top-notch speakers and panelists.
Join us for sessions on CA litigation update, ESI ethics, attorney competence and wellness, diversity and inclusion in the legal profession, and more. Speaker details and program descriptions coming soon. Lock in your early bird registration today!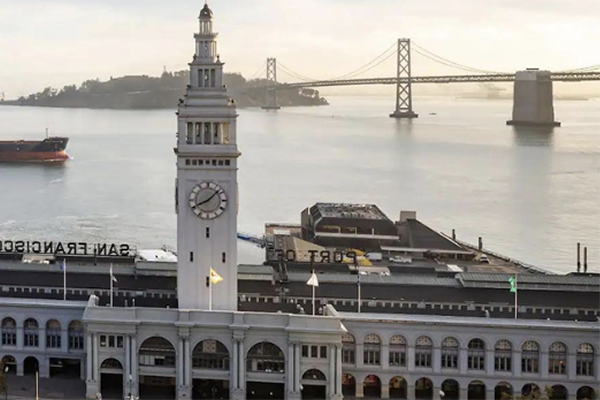 ---
What You Can Expect
This two-day action packed conference features:
Dean Erwin Chemerinsky Presents: Another Momentous Term in the Supreme Court: October Term 2022
Master Trial Attorneys Perform Live Voir Dire Demonstration
Trial Lawyer Hall of Fame John Sweeney Discusses The Art of Storytelling
Judicial Roundtable Luncheon with Key Judicial Officers
Master Attorneys and Judges Discuss the Power and Pitfalls of MSJs
Legal Update Panel of Important Rule, Legislative, and Case Law Changes
and more!
Frequently Asked Questions
---
Why can't I log in to register?

Please note that registration is hosted on a third-party platform. Your login credentials will be different than our calawyers.org website, and you may have to sign up for an account if you don't have an existing account.
What payment options are available?

All payments must be made by credit card or debit card through our online registration form. We accept Visa and MasterCard.

If you need a different payment option, please reach out to ProgramRegistrations@calawyers.org.
Where can I find my receipt?

The receipt will be emailed to you.
How do I select programs?

As you go through the checkout process, you'll be prompted to select your programs.
How do I cancel my registration?

Cancellations and requests for refunds must be received in writing no later than April 27, 2023. A $50 processing fee will be charged for requests received after April 27, 2023.

Requests should be emailed to ProgramRegistrations@calawyers.org
How can I update the sessions I selected?

Please log back into your account to update your sessions.
How many CLE credits can I earn?

Earn up to 13.25 Hours CLE Credit including Implicit Bias and Legal Ethics
Where should we stay for the conference?
Sponsorships
Platinum Sponsors
Polsinelli PC
Parker Shaffie LLP
Horvitz & Levy
Gold Sponsors
ADR Services, Inc.
Arrowhead
Complex Appellate Litigation Group (formerly California Appellate Law Group)
Gordon Rees Scully Mansukhani, LLP
Signature Resolution
Simpluris
Veritext Legal Solutions
Walkup, Melodia, Kelly & Schoenberger
Thursday Lunch Sponsor
Thursday Reception Sponsor
Friday Lunch Sponsor
Non-Monetary Sponsor
Bar Association of San Francisco (BASF)
Alameda County Bar Association (ACBA)
Would you like to partner with us? Find out more here.