---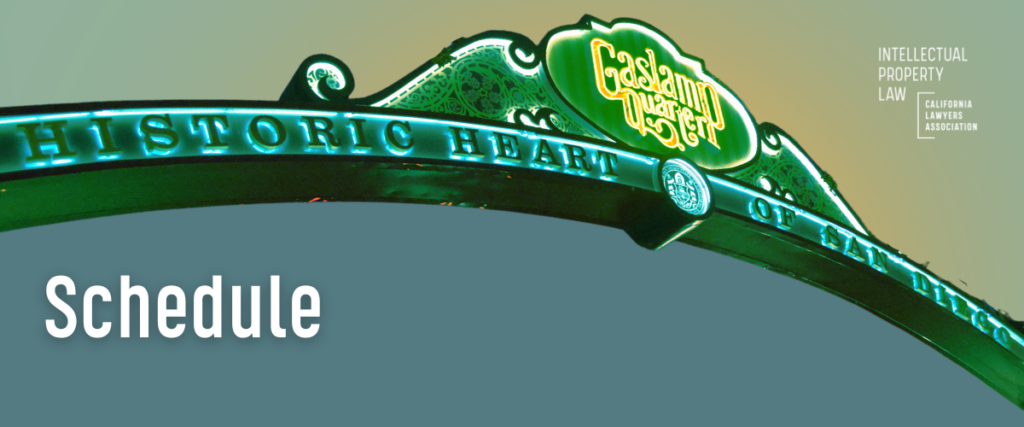 Schedule
Thursday, November 2, 2023
5:00 p.m. – 7:00 p.m. | Welcome Reception
Friday, November 3, 2023
8:00 a.m. – 4:15 p.m. | Registration
8:00 a.m. – 9:00 a.m. | Breakfast
8:45 a.m. – 9:00 a.m. | Welcome Remarks
9:00 a.m. – 10:00 a.m.
IP Valuation and Lifecycle (and Damages)

1 Hour MCLE

IP valuation is a critical component of IP transactions, IP portfolio management, IP enforcement, and other situations involving the creation and monetization of IP assets. And yet, IP valuation is often misunderstood by IP holders and the lawyers that are tasked with carrying these types of activities. This panel of IP valuation and monetization experts will shed light and share their experience as it relates to the basics of IP valuation, covering topics including: 1. Why is IP valuation relevant to the IP practitioner? 2. IP valuation fundamentals: How are various IP assets being valued (patents, trademark, etc.)? 3. Examples of use cases when IP valuation is used (e.g., licensing, funding collateral, M&A, strategic planning, enforcement, and litigation damages, etc.) 4. Key IP valuation mistakes to avoid!

Speakers:

Efrat Kaznick
Evan Loker, Director, CONSOR®
Yvonne Lee, Director of IP Investment and Corporate Counsel, Parabellum Capital LLC
10:15 a.m. – 11:15 a.m. | Concurrent Sessions
Protecting and Enforcing Your IP in Virtual Environments

1 Hour MCLE

The last couple of years have seen a rush by brands to extend their IP rights into virtual environments and digital markets, sparking a flurry of related litigation. This panel will discuss strategies for brands to protect and enforce their IP in the realm of NFTs and other digital spaces, including through the lens of the issues presented in the pretrial motions and trial earlier this year in Hermès v. Rothschild, currently on appeal in the Second Circuit.

Speakers:

Rhett Millsaps, Managing Member, Lex Lumina PLLC
Melanie Howard, Partner & Chair Luxury Brands & Luxury Brands & Intellectual Property Protection, Deputy Chair Advance Media, and Technology
Safe Harbor – Drug Development and Research Tools

1 Hour MCLE

The "safe harbor" of 35 U.S.C. § 271(e)(1) protects companies developing FDA-regulated products from patent infringement under certain circumstances. However, the boundaries of safe harbor can be murky and there has been confusion about the extent of its application, including for research tools. This presentation will discuss the implications of the "safe harbor" in the context of drug development.

Speakers:

Chad Shear, Partner, Cooley LLP
William Raich, Partner, Finnegan, Henderson, Farabow, Garrett & Dunner, LLP
11:30 a.m. – 12:30 p.m. | Concurrent Sessions
Generative AI and Copyright: Where We Are

1 Hour MCLE

Generative AI has raised a number of thorny copyright questions – both concerning. (1) Infringement and fair use (regarding training data, the model, outputs. (2) Copyright ability (that is, whether materials created using generative AI are protected by copyright). Join us as Heather Whitney of Morrison Foerster's Technology Transactions Group and member of the firm's AI Steering Committee provides an overview of these topics and where we are now.

Speaker:

Heather Whitney, Morrison Foerster
Patent Litigation Trends: What the Numbers Reveal About Resolving Patent Disputes in District Court and at the PTAB

1 Hour MCLE

In patent litigation, best practices often evolve in response to changes in the patent law and rules of practice, sometimes resulting in dramatic shifts. Being aware of current trends is essential for pursuing the best litigation strategy. The panelists will consider and discuss recent patent litigation trends, and how changes in the law and local practice are affecting litigation decisions and outcomes in U.S District Courts and at the PTAB.

Speakers:

Jonah Probell
Andrew Klein, Counsel, Perkins Coie LLP
Christopher McKinley, Associate, Intellectual Property Litigation, Skadden, Arps, Slate, Meagher & Flom LLP and Affiliates
12:30 p.m. – 2:00 p.m. | Networking Lunch (Table Topics)
2:00 p.m. – 3:00 p.m.
No Love in "The House That Ruth Built". Black Musical Performance and the Scourge of Copy Law

1 Hour MCLE

The great Black performer Ruth Brown is universally recognized as an innovator of rhythm and blues. Brown's prodigious talent fueled record sales so impressive that her record label, Atlantic Records was dubbed "the House That Ruth Built." Yet Ruth, like so many other African American artists, found herself deprived of compensation, even as her record label raked in profits. A trend prevalent among famous black blues, jazz, doo wop and rock artists of the 40's and 50's. While the problem seems to sound in inequitable contractual practices, U.S. Copyright law is also squarely culpable. Copyright law does not protect performances, except to the extent the performance is fixed in a sound recording that is typically not owned by the performer.

The inequities highlighted by the House that Ruth Built continue in the modern era amidst a frenzy of catalog acquisitions. The rise of AI and "deep fakes" has spurred calls for a federal right of publicity statute, with a focus on protection of voice. This opening presents an opportunity for redress for Black legacy performers.

Speaker:

Kevin J. Greene, John J. Schumacher Chair, Professor of Law Southwestern Law School
3:15 p.m. – 4:15 p.m. | Concurrent Sessions
Heating Up Alphabet Soup: An Update on State Privacy Laws from CCPA, VCDPA, and Beyond

1 Hour MCLE

The explosion of privacy laws nationwide makes unpacking the never-ending stream of acronyms (never mind the law itself) an immense challenge. Join Jon Lurie (Law Offices of Lurie and Ferri), and Chelsea Rissmiller (DLA Piper) for a thoughtful overview of the new state privacy laws (beginning with the final California Consumer Privacy Act regulations) and a discussion on how to sustainably operationalize privacy compliance in light of all the laws taking effect over the next several years.

Speakers:

Jon Lurie, Law Offices of Lurie and Ferri
Chelsea Rissmiller, DLA Piper
Trademark Licensing as Brand Strategy and Business Driver

1 Hour MCLE

Trademark licensing is more than just understanding trademark law and how to draft a contract. It can be an important part of your company's overall business and brand strategy. We will discuss the upside opportunities of a well-structured license and pitfalls to avoid when creating one.

Speaker: TBD
8:00 p.m. – 10:00 p.m. | Cannabis Nightcap
Join the Cannabis IP Interest Group for a nightcap at the bar to discuss all things cannabis. First come, first serve, limited to 25 tickets for complimentary drinks. Once tickets are distributed, individuals pay on their own.
Saturday, November 4, 2023
8:00 a.m. – 4:15 p.m. | Registration
8:00 a.m. – 9:00 a.m. | Breakfast
9:00 a.m. – 10:00 a.m. | Concurrent Sessions
Leveraging the TMA: Strategies for Successful Expungements and Reexaminations

1 Hour MCLE

Nearly two years ago, the TMA went into force and created two new mechanisms to clean the slate of inactive trademarks: expungement and reexamination procedures. During this panel, we will delve into the reasonable investigation requirement, and offer practical insights based on real-world examples of both successful and failed proceedings. The discussion will cover:

Best practices for gathering and presenting compelling evidence to support your reasonable investigation
Strategic utilization of expungement and reexamination proceedings
Experiences with expungement and reexamination proceedings before the USPTO

Speakers:

Tamara Rabenold, Vaudra International
Ben Natter, Haug Partners LLP
Patent Year in Review: US and Europe

1 Hour MCLE

U.S. and European IP law differ widely, including in the areas of data & patent term extensions which presents challenges in devising a cohesive IP strategy to optimize protection in both key markets. Moreover, over the last 12 months, significant legal developments have occurred in both territories and updated thinking is needed. In the panel, Patrick Reily (US Patent Attorney, IP Society) gathers insights from James Snaith (European Patent Attorney, Kilburn & Strode LLP) and Marc Peters (US IP Litigator, Turner Boyd LLP) on the latest updates in this area.

Speakers:

James Snaith, European Patent Attorney, Kilburn & Strode LLP
Marc Peters, US IP Litigator, Turner Boyd LLP
Patrick Reilly, US Patent Attorney, IP Society
10:15 a.m. – 11:15 a.m.
Keynote Speaker — Section 230: The Good, the Bad, the Ugly

1 Hour MCLE

Section 230 is the legal foundation of the modern Internet, but it's poorly understood by many lawyers. In particular, IP lawyers may be surprised by how much Section 230 has to say about IP law. This keynote will demystify the law and explain why IP lawyers should care.

Eric Goldman is Associate Dean for Research, Professor of Law, Co-Director of the High Tech Law Institute, and Supervisor of the Privacy Law Certificate, at Santa Clara University School of Law. His research and teaching focuses on Internet law, and he blogs on that topic at the Technology & Marketing Law Blog.
11:30 a.m. – 12:30 p.m. | Vanguard Award, Larry Maxham Award
Each year at the IP Institute, the Section honors outstanding legal professionals in the judiciary, private practice, in-house practice, academia, and public policy advocacy for their contributions to the advancement of intellectual property law. We are pleased to congratulate the following individuals as this year's Vanguard award winners:
Private Practice: Stephen Doniger, Partner at Doniger / Burroughs
Mr. Doniger focuses on copyright infringement litigation, representing photographers, authors, fine artists, and clients in the marketing, fashion, and entertainment industries. In 2022 his firm won recognition for its successes before the Ninth Circuit in McGucken v. Pub Ocean and before the Supreme Court in Unicolors v. H&M, and in connection with his role as counsel for American Photographic Artists he authored or co-authored six amicus briefs, including to the Supreme Court in Warhol v. Goldsmith and Genius v. Google, and to the Ninth Circuit in VHT v. Zillow and Hunley v. Instagram. He has been selected to the Southern California Super Lawyers List for the years 2021-2024.
Academic: Professor Orly Lobel at the University of San Diego School of Law
Orly Lobel is the award-winning author of several books and numerous articles. She is a prolific scholar, commentator, and speaker who travels around the world with an impact on policy and industry. She is the Don Weckstein Professor of Law at the University of San Diego and received her doctoral and law degrees from Harvard University. Her book Talent Wants to Be Free (Yale University Press) is the winner of several prestigious awards, including Gold Medal Axiom Best Business Books, Gold Medal Independent Publisher's Award, the Gold Medal of Next Generation Indie Books and Winner of the International Book Awards for Best Business Book.
12:30 p.m. – 2:00 p.m. | Networking Lunch
2:00 p.m. – 3:00 p.m. | Concurrent Sessions
Supreme Court Copyright & Trademark Year in Review

1 Hour MCLE

2023 has been an eventful year for trademark and copyright decisions by the U.S. Supreme Court. And 2024 is shaping up to be another robust docket of trademark and copyright cases the Supreme Court will consider. Back by popular demand, our distinguished panelists will provide in-depth, practical insights about this year's blockbuster Supreme Court trademark and copyright decisions, including a look at the ramifications of Jack Daniel's v. VIP Products, Warhol Foundation v. Goldsmith, and Abitron v. Hetronic. They will also examine those cases currently pending – or likely will be pending in the near future – before the Court, such as:

"Trump Too Small" trademark / free speech case (Vidal v. Elster)
Recovering damages beyond the Copyright Act's statute of limitations (Warner Chappell Music, Inc. v. Nealy)
Scope of direct liability for copyright infringement (ABKCO Music, Inc. v. Sagan)
Viability of the Ninth Circuit's "server test" (Hunley v. Instagram)

And don't miss out on the panel's prognostications for 2024!

Moderator: Angus MacDonald, University of California

Speakers:

Tyler Ochoa, Professor, Santa Clara University, School of Law
Jacqueline Charlesworth
Vijay Toke, Partner, RIMON
Advising AI Clients: Innovation, Challenges, and Future

1 Hour MCLE

In this enlightening session, join our panelists as they delve into the intricate world of protecting AI innovations with an emphasis on patents. Explore the challenges, opportunities, and potential impacts of AI on business and technology in the realm of intellectual property.

Speakers:

Sikander Khan, Founder, Flagship Patents
Soody Tronson, Founding Managing Counsel, STLG Law Firm
Samir Riyani
3:15 p.m. – 4:15 p.m.
Rule 8.3, AI, and Other Hot Topics in Legal Ethics

1 Hour MCLE; 1 Legal Ethics

Please join for a discussion of Rule of Professional Conduct 8.3, AI, and other important ethics topics in 2023. Plus, we will look ahead to 2024 and the associated challenges and opportunities.

Speaker: TBD