---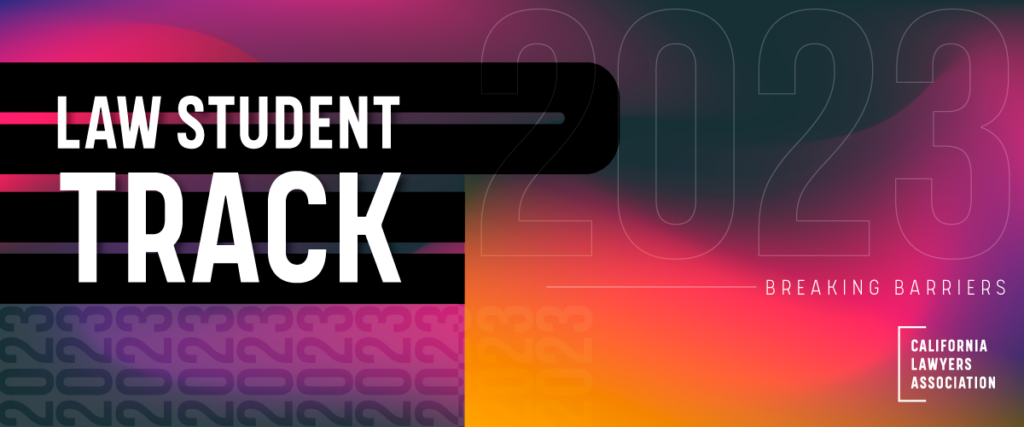 ---
Law Student Track
The Law Student Track at the California Lawyers Association (CLA) Annual Meeting offers a dynamic platform for law students to enhance their legal knowledge, network with legal professionals, and develop crucial skills for their legal careers. This specialized track offers two sessions, bringing together law students from across California to engage in interactive presentations and focused discussions. Participants will also have the opportunity to connect with legal exhibitors and potential employers, enriching their understanding of various legal fields and potential career pathways.
Students can choose to attend the Annual Meeting in its entirety or participate in the Law Student Track only. (Note: Online registration is now closed. Onsite registration will be available.)
Student Track Schedule
THURSDAY, SEPTEMBER 21, 2023
9:45 a.m. – 11:00 a.m.
Bryan Stevenson Opening Keynote
11:15 a.m. – 12:15 p.m.
Chief Justice Patricia Guererro Keynote
12:15 p.m. – 1:15 p.m.
CLA Section Networking Lunch-Get to Know the CLA Sections & Committees
1:30 p.m. – 2:45 p.m.
Law School Track #1: California Lawyers Association (CLA) 101
Learn more about the California Lawyers Association dynamic 18 sections that cover different law practice areas, legislative advocacy, membership benefits for students, and leadership roles and opportunities. A panel of members will discuss their leadership roles within the association and offer insight into how you can chart your own path within the association and future legal career.
Josh Bonnici, Managing Attorney, Bonnici Law Group
Toni Jaramilla, Toni Jaramilla, A Professional Law Corporation
Gladys Valentine, Initiatives Manager, California Lawyers Association
3:00 p.m. – 4:15 p.m.
Law School Track #2: Design Your Future as a California Lawyer
Connect with a panel of attorneys, some of the most highly regarded leaders in their legal field, who can answer your questions and help you design your future as a California attorney! Panelists will share their personal journey to success within their field and provide an overview of "things to consider" when choosing a practice area, an employer, and how to prepare as a law student to enter the field of your choice.
Josh Bonnici, Managing Attorney, Bonnici Law Group
Jerrilyn Malana, San Diego County District Attorney
Tristan Higgins, Metaclusive
Abiel Garcia, Kesselman Brantly Stockinger LLP
5:00 p.m. – 6:30 p.m.
CLA Opening Night Reception & Expo
To learn about the Annual Meeting as a whole, check out the full schedule.
Pricing
| | |
| --- | --- |
| Full Conference Pass for Law Students (Thursday – Saturday, including the Gala) | $295 |
| Law Student Track only (Thursday) | FREE |
If you are a law school student and need financial assistance to attend Annual Meeting, please complete this form and contact ProgramRegistrations@calawyers.org.
For registration assistance or if you have special needs or dietary restrictions, call 916-516-1757 or email ProgramRegistrations@calawyers.org.
For any accommodations, call 916-516-1712.
For more information visit our pricing page!
Pay It Forward
If there's one thing we've noticed about the legal community, we care for each other!
Individuals and law firms can pay it forward for a law student to attend the Annual Meeting!
By sponsoring law students' attendance, you will play an active role in developing the next generation of legal professionals.
Interested in other Annual Meeting sponsorship opportunities? Download the 2023 prospectus.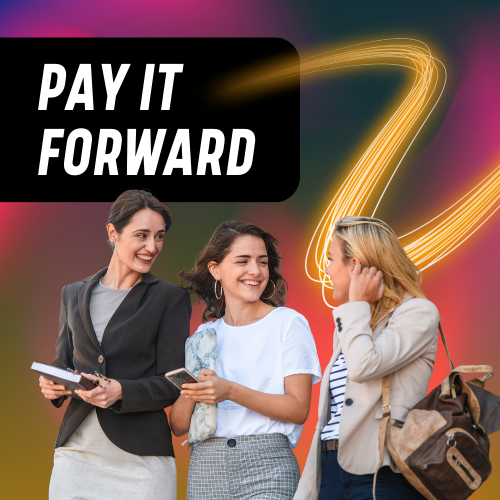 Please note: the information above pertains to the CLA Annual Meeting's Law Student Track. For inquiries about the event as a whole, please refer to our other pages.