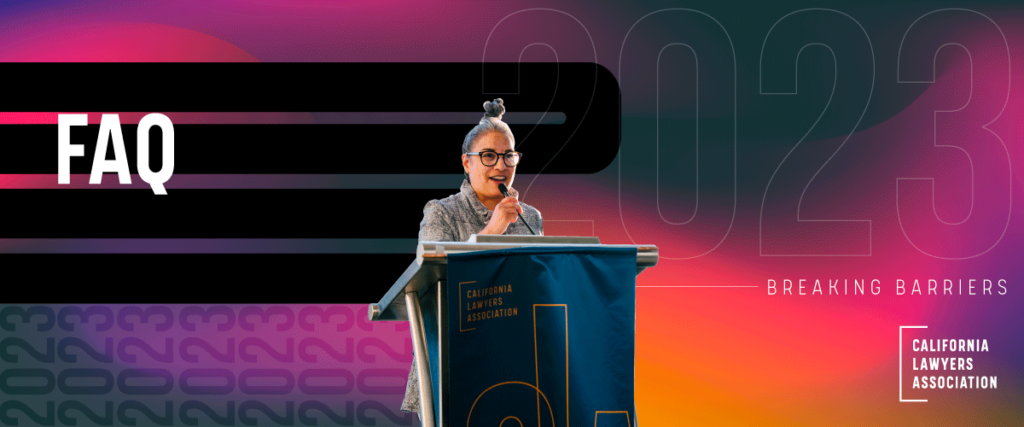 Frequently Asked Questions
---
Why can't I log in to register?

Please note that registration is hosted on a third-party platform. Your login credentials will be different than our calawyers.org website, and you may have to sign up for an account if you don't have an existing account.

Online registration ends September 14, 2023. After that point, you can register onsite.
What payment options are available?

All payments must be made by credit card or debit card through our online registration form. We accept Visa and MasterCard.

If you need a different payment option, please reach out to ProgramRegistrations@calawyers.org.
Where can I find my receipt?

The receipt will be emailed to you. Check your spam folder if it does not appear in your inbox.
How do I select the programs I want to attend?

As you go through the checkout process, you'll be prompted to select your programs. If you registered early before sessions were made available, you can log back into the registration platform and select your programs. Contact CLA if you have questions at ProgramRegistrations@calawyers.org.
I am interested in sponsoring a law student to attend. How do I do that?
I am in need of special assistance. How do I contact CLA about that?
How do I get there from the airport?

Just three miles from the San Diego Airport, Hilton Bayfront is in San Diego's Gaslamp Quarter District located along Harbor Drive. Rideshare and taxi options are available at the airport; if you prefer a car/limo service, contact the Hilton Bayfront Hotel for assistance. Rates start at $80 for individuals and large groups. Need to rent a car? Use our discount code for Hertz with CalBar Connect
What are parking rates?

Hotel Parking: $60/night for valet parking; $42/night for self-parking
Are there childcare services?

Yes. The Hilton Bayfront works with Sitterwise for temporary childcare services.
How do I cancel my registration?

Registration and/or ticket refund requests must be received no later than September 14, 2023 and are subject to a $50 service charge.

Requests should be emailed to ProgramRegistrations@calawyers.org.
How can I update the sessions I selected?

Please log back into your account to update your sessions.
How many CLE credits can I earn?

Earn up to 14.75 Hours MCLE; 4 Hours Legal Ethics, 2 Hours Competence Issues, 1 Hour Elimination of Bias, 1 Hour Implicit Bias
Will there be a virtual option for this event?

This conference will not be hosted online, but we will select a few programs to offer as live webcasts. More information to come. Annual Meeting programs will be recorded and later be added to our online catalog as OnDemand MCLE courses.