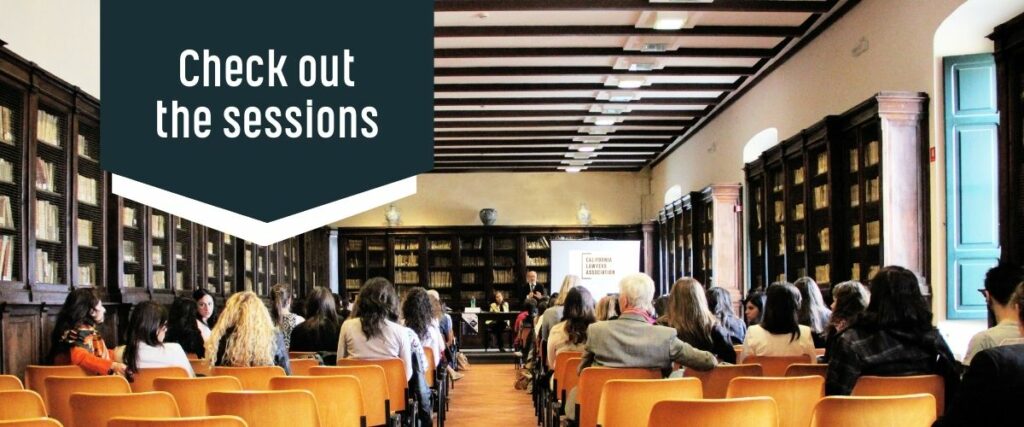 2022 Annual Meeting Schedule
---

---
Thursday, September 15, 2022
11:00 a.m. – 12:00 p.m.
MCLE: 1.0 Hour
Keynote: A Life in the Law and Sports Business: Building a Career Through Relationships, Charity, Negotiation, and Civic Engagement
MCLE: 1.0 Hour


Leigh Steinberg

---

Leigh Steinberg, premier sports agent, entrepreneur, best-selling author, and Chairman of Leigh Steinberg Sports and Entertainment Holdings, is best known for his work building athletes into stand-alone brands. He is often credited as the real-life inspiration for the Oscar-winning film Jerry Maguire. Leigh has represented many of the most successful athletes and coaches in football, basketball, baseball, hockey, boxing, and golf, including the number one overall pick in the NFL draft for an unprecedented eight times in conjunction with 64 total first round picks. With an unrivaled history of record-setting contracts, Leigh has secured over $4 billion for his 300+ pro athlete clients and directed more than $800 million to various charities around the world.

Over the course of his career, Leigh has been featured on numerous national television programs, including 60 Minutes, Larry King Live, The Today Show, Lifestyles of the Rich and Famous, and many more. He has been profiled in a host of magazines, including Business Week, Sports Illustrated, ESPN the Magazine, People, Forbes, Playboy, GQ, and FHM. He currently resides in Newport Beach, CA.


12:15 p.m. – 1:15 p.m.
Exhibitor, CLA Sections/Committees and Attendee Networking Lunch

Join CLA Sections/Committees and the Exhibitors for an Informal Meet and Greet to kick off the 2022 Annual Meeting. Light lunch items and non-alcoholic beverages will be provided. Please stop by to learn about the services offered by our exhibitors, what the CLA Sections/Committees are doing, and meet fellow colleagues attending the Annual Meeting.
1:30 p.m. – 3:00 p.m.
Elimination of Bias in the Legal Profession
MCLE: 1.5 Hours Implicit Bias credit

This program will help identify the problems of implicit bias in our judicial system and how, when, where and why bias develops, as well as how to identify bias in others and within themselves. It will bring a unique take on the current dialogue around diversity, equity, and inclusion as it relates to the legal profession.

Speakers:

Hon. Kirk Nakamura (Retired), JAMS
Jerrilyn "Jerri" T. Malana, San Diego County DA's Office
Trends and Best Practices Concerning Environmental, Social, and Governance Factors in Business
MCLE: 1.5 Hours

There is a new movement to use environmental, social, and governance (ESG) factors to evaluate a company's ethical and sustainable impact. Panelists will address this hot topic, including the SEC's recently released proposal on ESG disclosure requirements and other regulatory developments, the possible downstream effect on private small and medium sized businesses, and proactive steps and best practices to guide practitioners who are advising businesses of all sizes.

Speakers:

Madison Stern, ESG (Environmental, Social & Governance) Justice
Matthew Batista, Klinedinst
James Chowdry, Chowdry Family Office, Impact SRI (Socially Responsible Investments)
David Cullmer, PwC (PricewaterhouseCoopers)
Soledad Matteozzi, Thinking Beyond Business
Lawyer Competence and Communication in our Diverse World
MCLE: 1.5 Hours Legal Ethics

Communication is a fundamental component of every lawyer-client relationship. As recognized recently in ABA Formal Op. 500, a lawyer must communicate with a client so that the client can make informed decisions regardless of language or cultural differences. This obligation is part of competent representation and cross cultural misunderstandings are recognized as a source of malpractice claims. But they are easily preventable. By sharing a series of real-life hypotheticals, this panel for all experience levels will analyze some common scenarios that cause misunderstandings and provide guidance to prevent unnecessary communication breakdowns during the lawyer-client relationship.

Speakers:

Toby Rothschild, CLA Ethics Committee, OneJustice, Tracy J. Roberts Law Office (TJRLAW)
Ashod Mooradian, Ethics Committee, North Central University
A Nation in Retrograde
MCLE: 1.5 Hours Recognition and Elimination of Bias

This panel discussion will review what has and has not changed in our country since the murder of George Floyd on May 25, 2020. Panelists will explore some of the policies that are being undone and have been enacted. The group will also review the ongoing attacks and aggression targeting minority communities.

Speakers:

Terrance Evans, Duane Morris LLP, Duane Morris Trial Practice Group, NBA Region 9, CLA Board
Adrieannette Ciccone, Robert S. Gitmeid & Assoc., PLLC, Law Office of Adrieannette Ciccone, Esquire
Tim Warriner, Law Office of Timothy E. Warriner
3:15 p.m. – 4:45 p.m.
Surf & Sewage: Litigation Over Cleanup of the Tijuana River
MCLE: 1.5 Hours

This program will discuss litigation brought by citizens against the International Boundary and Water Commission to address pollution flowing from the Tijuana River, across the U.S./Mexico border and into the ocean near San Diego. The topic will address issues of interest to environmental, international, litigation and public law attorneys.

Speakers:

Angela Howe, Surfrider Foundation, University of San Diego School of Law
John Carter, Port of San Diego
Tim Sloane, Sher Edling LLP
Paloma Aguirre, Imperial Beach Councilwoman
The Intersection of Attorney Well-Being and Professional Discipline
MCLE: .75 Hour Legal Ethics and .75 Hour Competence Issues

Attorney wellness is critical for the delivery of competent legal services to the public. Almost every State Bar prosecution has a back story of substance abuse, untreated depression and anxiety. The profession needs to face work/life balance and the toxic environment of law firms to ensure access to justice for the public.

The program will review the ethical obligations of attorneys to deal with suspected impairment of their superiors and subordinates and confidentiality issues which can delay squarely confronting problems which lead to performance and communication complaints with the State Bar.

This panel will explore the problem and offer some solutions for lawyers to avoid the attorney discipline system. This program will be introductory and will provide specialty Ethics and Competence credits.

Speakers:

Greg Dorst, CLA Health and Wellness Committee, The Other Bar
State Bar Court Judge Cynthia Valenzuela
Alan B. Gordon, Managing Attorney at Erin Joyce Law, PC, and former State Bar prosecutor
The Interdisciplinary Nature of Indian Law: How it Affects Your Practice
MCLE: 1.5 Hours

A high-level introduction focused on educating non-Indian Law practitioners about the relevancy of Indian and Tribal Law-related matters across disciplines, including an overview of sovereignty and jurisdictional issues.

Speakers:

Tamara Honrado, Child & Family Policy Institute of CA
Dorothy Alther, California Indian Legal Services
Judge Devon Lomayesva, Chief Judge Intertribal Court of Southern California
What Ever Happened to Mary Jane?
MCLE: 1.5 Hours

With the growing movement toward marijuana legalization, we face difficult issues in the workplace and in our workers' compensation cases. What rights do employers continue to have in addressing marijuana use in the workplace? What rights do injured workers have to use marijuana medicinally for workers' compensation injuries? What happens when these issues intersect?

This program will cover: (1) the current state cannabis legalization within the State of California and U.S.; (2) current thoughts around the efficacy of cannabis as a medical treatment; (3) issues employers face with increasing numbers of workers using cannabis during off-work hours; and (4) the overlapping issues for worker's compensation claims.

Speakers:

Yvonne Lang, Worker's Comp, Ventua Office, Pearlman Brown & Wax
Dean Rocco, Wilson Elser
5:30 p.m. – 7:30 p.m.
California Lawyers Association and California Lawyers Foundation Opening Night Awards Reception

We invite you to attend the CLA/CLF Opening Night Awards Reception celebrating award recipients and networking with colleagues.
---

---
Friday, September 16, 2022
7:30 a.m. – 8:30 a.m.
CLA Health and Wellness Fitness Morning

Join the CLA Health and Wellness Committee in the morning to start your day with some light exercise or mindfulness practices. This could include a beautiful walk or jog on the promenade, yoga on the bayfront lawn, or a guided meditation away from the hustle and bustle of the Annual Meeting. RSVP not required, simply show up in exercise or comfortable attire. Download the Whova app for live updates on what is in store for your health and wellness.

---

Meditation Workshop Title: Mindfulness Practices for Busy Professionals

A discussion about some practices that may support you in creating or expanding your own mindfulness/meditation routine or practice. Sharing of some resources, tools, and tips for:

How to set up a practice
Intention setting for the day
How to address stress during the day

The discussion will be followed by a meditation to help ground and center for a peaceful day.

Hosted by: Gayani R. Weerasinghe, Esq, MA.

Gayani is a practicing attorney in intellectual property and business law. She was a scientist before coming to law school, having published 12 peer review original research articles. She started her regular meditation practice in 2014, and since then she had spend numerous hours studying the subject through books, taking classes, and courses with different providers, and building her own practice through meditation.

She intentionally has not done any certifications because she believes strongly in her own intuitive guidance in following the "yellow brick road." She is inspired by authors such as Brene Brown, Deepak Chopra, Wayne Dyer, Louise Hay, Neville Goddard, Michael Singer, and Oprah Winfrey. She has done group meditation sessions for attorneys, entrepreneurs, and business owners, and written articles on the subject, such as the article being shared here. For a virtual one-on-one intuitive strategic session for those who want to expand their conscious awareness, please connect with her via LinkedIn for more details.
9:00 a.m. – 10:00 a.m.
A Conversation with Heather Brooks Karatz
MCLE: 1.0 Hour

A Conversation with Heather Brooks Karatz: Join Heather as she discusses her career path, how she has excelled in a very dynamic sports & entertainment industry, and built a beautiful family all while staying true to herself.

@HeatherBKaratz

The former President of the XFL's Los Angeles Wildcats and Executive Vice President and General Counsel of the Los Angeles Football Club is now serving as Executive Vice President of Growth & Operations at United Talent Agency, one of the big three international entertainment talent agencies. She leads a variety of growth initiatives across the agency, with a particular focus on the company's sports businesses, including Klutch Sports Group.

Heather is a role model as a successful executive in the competitive entertainment and sports industry. Her story is a powerful one and she is just getting started!

Moderator: Jeremy Evans, President at California Lawyers Association | CEO at California Sports Lawyer® | Entertainment · Media · Sports | Host & Executive Producer, Bleav in Sports Law Podcast | Production Counsel, North America at Media.Monks

---

Heather Brooks Karatz

---

Heather Brooks Karatz is the Executive Vice President of Growth and Operations at leading global talent, entertainment, and sports company UTA, where she oversees expansion initiatives, including in areas such as sports.

Prior to joining UTA, Karatz served as the president of the XFL's Los Angeles Wildcats, where she led all business operations for the team including partnerships, ticket sales, marketing, media and fan engagement. She also previously served as the Executive Vice President & General Counsel of the Los Angeles Football Club where she played a critical role in LAFC's business development initiatives and was responsible for overseeing all legal matters.

Heather earned her law degree from the University of California, Los Angeles in 2009 and graduated from Vanderbilt University in 2006 with a Bachelor of Arts in Spanish and minor in philosophy.
10:15 a.m.- 11:15 a.m.
Building a Workplace Filled with Superheroes
MCLE: 1.0 Hour Recognition and Elimination of Bias

Everyone wants to belong at work. A workplace filled with employees who feel like they belong is like employing a league or assembly of superheroes. Learn how you can help build a workplace where all of your employees belong. We need more superheroes!

Speaker:

Tristan E.H. Higgins, Metaclusive LLC
Dean Michelle Allison, Thomas Jefferson School of Law
Lauren Finn, Barracuda
Dr. Shawntanet Jara, Poway Unified School District
Employment Law: New Considerations in Maintaining Legally Compliant HR Systems
MCLE: 1.0 Hour

Recent employment law litigation has highlighted new areas of possible exposure for company HR systems, including performance management programs, selection systems (criminal background checks, physical abilities testing), pay equity, and wage and hour issues. This intermediate session will present novel approaches to evaluating and maintaining legally compliant HR systems.

Speakers:

Elizabeth Arnold, BRG (Berkeley Research Group, LLC)
Chester Hanvey, BRG (Berkeley Research Group, LLC)
Guillermo A. Escobedo, Jackson Lewis P.C.
AI and the Practice of Law: Where We Are, and Where We're Heading
MCLE: 1.0 Hour Legal Ethics

Artificial intelligence and its application to the legal industry is a rapidly developing area for all lawyers to watch. From smart contract review and streamlining discovery to hiring, AI holds significant promise for all lawyers, regardless of size or generation. With promise, however, comes risk. The laws and ethical rules surrounding the use of AI in the legal profession are still nascent, and litigation is on the rise. We'll explore how AI has developed for the legal industry and provide concrete takeaways for practitioners as they explore this new area of legal technology.

Speakers:

Peter Stockburger, Dentons, University of San Diego School of Law
Rachel Ross, Dentons
Christine Goodman
Global Perspectives on the Changing Practice of Law
MCLE: 1.0 Hour

The global pandemic brought about, and accelerated, many changes in the practice of law, including developments in court practices, client engagement, law firm management and marketing. This program brings together attorneys who practice in foreign jurisdictions to discuss the latest professional innovations occurring in other parts of the world.

Speakers:

Kazuto Yamamoto, Partner, Daiichi LPC
Adrián Ojeda Cuevas, Ojeda y Asociados
Jiří Novák; Equity Partner, Brož, Sokol & Novák, Prague, Czech Republic

Moderator: Tiffany Heah, Law Office of Tiffany Heah, APC
11:30 a.m. – 12:30 p.m.
Workers' Compensation and Immigration Status
MCLE: 1.0 Hour Workers' Compensation Law

In any area of law immigration status can be a difficult issue to tackle. Workers' compensation is no exception. This panel will focus on how to properly address the issue of immigration status when litigating a workers' compensation claim. Don't let an innocent question result in devastating consequences for your client

Speakers:

Ruben Espinoza, Espinoza Law Group
Faith Nouri, Nouri Law Corporation
Ethical Jury Selection in the Digital Age
MCLE: 1.0 Hour Legal Ethics

Long gone are the days where lawyers wrote as small as possible to record what was important on everything a juror said on a yellow post it notes. Now lawyers have literally a world of information at their fingertips in court. Competent, ethical lawyers need to know what is out there, how to access it, and what they can ethically use.

Lawyers are no longer forced to rely solely on what jurors say in the courtroom. Internet research is used to explore and supplement what a juror is comfortable revealing in front of a room full of strangers. Social media sites function as lie detectors, exposing the often significance difference between the persona a juror reveals in the fishbowl of the courtroom, and the details they reveal to their hundreds of "friends" and online connections.

This program will cover the ethical rules that govern how lawyers can access online information about jurors, where they can look, how they can cybersleuth, and how they can use the information they find.

Speakers:

Arturo J. Gonzalez, Morrison Foerster
Armando Pastran, Jr. , Alameda County DA's Office
New Era of No-Poach? Recent Developments and Implications
MCLE: 1.0 Hour

After years of indicating forceful prosecution of "no-poach" agreements, including releasing Antitrust Guidelines for Human Resources Professionals regarding such practices, the DOJ Antitrust Division brought two criminal non-poach prosecutions in 2021, and more are believed to be coming. Meanwhile, private class actions seeking damages and injunctions for such practices continue nationwide. This panel will provide perspectives on this new wave of criminal and private enforcement from experts in criminal law, labor law, and antitrust law.

Speakers:

Rasha G. Shields, Jones Day, Arab American Lawyers Association of Southern California, UCLA Law Alumni Association, Women's White Collar Defense Association, California ChangeLawyers, LA County Bar Association, Just The Beginning – A Pipeline Organization
Erik W. Weibust, Epstein Becker & Green
James Dallal, Cotchett, Pitre & McCarthy
Andrew Schupanitz, U.S. Department of Justice, Antitrust Division
12:30 p.m. – 2:00 p.m.
2022 Business Law Lifetime Achievement Award Luncheon

Featuring James P. Hill as this year's Lifetime Achievement award recipient. Join the Business Law Section for a ticketed luncheon honoring the great James P. Hill and his accomplishments.

This ticketed event includes a presentation entitled "Name, Image, and Likeness in College Sports: The Good, Bad, and Great of Dealmaking" with CLA President Jeremy M. Evans and Founder, Managing Attorney, and Chief Entrepreneur Officer at California Sports Lawyer®️.

BLS Executive Committee Chair Everett L. Green will share a short informative presentation on the state of the Section.

---

The Business Law Section is pleased to announce that James P. Hill has been selected to receive the Business Law Section's 2022 Lifetime Achievement Award. This prestigious award is given annually to a California lawyer "who over an extended period has made significant contributions to the Business Law Section or to business law generally in the State of California and who has achieved high status in the legal community." Read more about James P. Hill.
No Animals Allowed: Civics Education Community Outreach Program

CLA will host local 5th grade elementary school students in a fun and interactive civic learning program designed to underscore the importance of civic engagement to maintaining a vibrant and healthy society. Students will review the three branches of government, discover the judicial branch's role of "interpreting" the law fairly and equally, and practice critical thinking as they apply the law. Justice Judith McConnell, Chair of the Power of Democracy Steering Committee, will moderate the program. 4th through 6th grade children of Annual Meeting attendees are welcome to participate in this ticketed event. All student participants will receive lunch and a comic book.
2:15 p.m. – 3:45 p.m.
Ethics in Mediation
MCLE: 1.5 Hours Legal Ethics

Mediation was already an inevitability prior to a pandemic closing courthouse doors and, for now, jury trials are a rarity. When courts open fully for civil litigation, it will take years to clear the backlog. Mediation has become all the more important. This panel presentation is designed for advocates who represent clients in mediation.

Key topics will include:

Is serving as litigation counsel a different role than mediation advocacy?
What does ""confidentiality"" in mediation really mean?
What is counsel's obligation to prepare the client for mediation?
What does it mean to keep a client informed?
What is ""good faith"" participation in mediation?
Is there a place for threats or belligerence in mediation?
How much does a client need to understand about the mediation process?
Does puffery breach the duty of candor?

Speakers:

Hon. Randa Trapp (Ret.), JAMS
Marisa Janine Page, Caldarelli Hejmanowski Page & Leer (CHPL)
Dave Fox, Fox Law
Randy Grossman, US Attorney Southern District of CA
Strategies and Helpful Practices for Taking and Defending Depositions
MCLE: 1.5 Hours

Taking depositions and preparing clients for theirs is often a highly important and sometimes difficult component of litigation. This session will address key issues to be aware of. This program is geared toward the new lawyer, but will have tips for all experience levels.

Speakers:

Dan Lawton, Klinedinst PC
Bibi Fell, Fell Law
Rayna Stephen, Senior Chief Deputy Chief Attorney
Appellate Perspectives: A Conversation with California Supreme Court and Court of Appeal Justices in San Diego
MCLE: 1.5 Hours Appellate Law

This panel will discuss issues impacting the appellate courts statewide, the justices' respective courts and differing roles, and comparative perspectives on effective advocacy and judicial decision making at different levels.

Speakers:

Hon. Patricia Guerrero, Supreme Court of California
Hon. William S. Dato, California Court of Appeal
Hon. Martin N. Buchanan, California Court of Appeal

Moderators:

Kevin Green, Hagens Berman Sobol Shapiro LLP
Johanna Schiavoni, California Appellate Law Group LLP
Hot Topics in Key Areas of Business Law
MCLE: 1.5 Hours

Business Law overlaps many practice areas and we have standing committees representing many different areas. An expert from the Commercial Transactions Committee (formerly UCC); Insurance Committee; Healthcare Law and Corporations Committee will speak on emerging issues/hot topics in each area of practice.

Speakers:

Walter Oetzel, Walter K. Oetzell APC
Sameer Dessai, BLS Corporations
Sharon Huerta, Sullivan Hill
Rachel Nosowsky, University of California
4:00 p.m. – 5:00 p.m.
The Metaverse & The Multiverse: What Happens When the Law has to play catch up to NFTs and Digital Transformation of Things
MCLE: 1.0 Hour

The Growth of the Digital Universe has led to many new business opportunities. What are those opportunites are what is the metaverse, NFTs, and the digital world? What are the proper business structures? Contracts? Issues?

Speakers:

Jacob Martin, 2 Punks Capital, JTM Tech Law, NFT Rocketship Inc.
Zachary Lewis Frankfurt Kurnit Klein & Selz PC

Moderator: Jeremy Evans President at California Lawyers Association | CEO at California Sports Lawyer® | Entertainment · Media · Sports | Host & Executive Producer, Bleav in Sports Law Podcast | Production Counsel, North America at Media.Monks

Sponsored by California Sports Lawyer
Immigration Basics for ALL Lawyers
MCLE: 1.0 Hour Immigration and Nationality Law

27% of people living in California were born outside of the United States. So though not all lawyers are immigration lawyers, all California lawyers are lawyers for immigrants. Our panel of experts will cover the key and current points all attorneys should be aware of concerning Immigration law today.

Speakers:

Harumi Hata, Buchalter Law Firm
Joshua Surowitz, Surowitz Immigration, PC – CLA International Law Section Past Chair
Maxine Bayley, Duane Morris LLP
3 Tips for Hiring Excellent Employees so you can Retain the Good Ones and Protect your Business from the Bad Ones
MCLE: 1.0 Hour

Whether its your first hire (or your 50th!), understanding how to plan and recruit for your next hire is absolutely critical to staying ahead of the growth of your firm. Who you hire is just as important because, good or bad, they will influence the culture of your firm and your other employees. But as small law firm owners, who has the time to dedicate to proper hiring when the legal work is piling up?!

In this presentation, you will learn 3 key tips for how to streamline the hiring process so you don't reinvent the wheel every single time your business has a hiring need. You will also learn how to identify which positions you need to recruit and hire for, and how to avoid common pitfalls that lead employers into an employee lawsuit.

*For Small Law Firm Owners, Beginner to Intermediate

Speakers:

Tania Music, How to Manage a Small Law Firm
Kristen Roberts, Trestle Law
Jennifer Reardon, Reardon Law

Moderator: Valerie Gonzalez, San Gabriel Valley Law, Trinity Law School
Writs 101: Administrative, Civil, and Criminal Writ Petitions to the Court of Appeal
MCLE: 1.0 Hour Criminal Law and Appellate Law

This introductory program covers administrative, civil, and criminal writ petitions to the Court of Appeal. First, we review procedural basics. Then we highlight the most "writ-able" rulings, including rulings applicable to veterans. Finally, the Justices on the panel discuss what gets their attention in a petition.

Speakers:

Stefan Caris Love, Greines, Martin, Stein & Richland LLP
Susan Horst, of Counsel, California Appellate Law Group
Justice Maurice Sanchez, Fourth District Court of Appeal
Justice Eileen C. Moore, Fourth District Court of Appeal
5:30 p.m. – 7:30 p.m.
New Lawyers Jack Berman Award Reception jointly sponsored by Law Practice Management and Technology and Solo Small Firm

Celebrate the Jack Berman Award recipient and network with fellow attendees and members of the CLA Association Based Sections; Law Practice Management and Technology, New Lawyers and Solo and Small Firm Sections
---

---
Saturday, September 17, 2022
7:30 a.m. – 8:30 a.m.
CLA Health and Wellness Fitness Morning

Join the CLA Health and Wellness Committee in the morning to start your day with some light exercise or mindfulness practices. This could include a beautiful walk or jog on the promenade, yoga on the bayfront lawn, or a guided meditation away from the hustle and bustle of the Annual Meeting. RSVP not required, simply show up in exercise or comfortable attire. Download the Whova app for live updates on what is in store for your health and wellness.

---

Kinnect Fitness Class @ Bayfront Park

Kinnect your mind-body-soul with us in this powerful combo of barre, cardio, stretching, and meditation. Our priority is your safety through proper alignment, your strength through focused resistance work, and your overall health & wellness through movement, mindfulness, and fun! This class is 60 minutes long: 50 minutes of movement followed by 10 minutes of meditation. This class will be a silent disco format, headphones are provided. We also have 5 transmitters for anyone who prefers to bring their own plug-in headphones (not bluetooth compatible).

Our motto: The more whole we are, the more whole we make the world!
This practice is great for all levels, with different options offered for when you need a more low-impact experience or if you are looking to take your practice to the next level!
This is a BYOE (Bring Your Own Everything) class. Here are our suggestions on what to bring to class:

mat
water
hand towel
light weights (optional – we choreograph class assuming most people will not have weights)
Wear clothing that is comfortable for movement/stretching.
We typically do class barefooted or with socks, but if shoes are more comfortable or needed for injury, that's ok too.

Learn more about Kinnect Fitness at https://kinnectwithus.com or contact them at (619) 232-2316
9:00 a.m. – 10:00 a.m.
Keynote: Emerging Cases and Controversies Before the Roberts Supreme Court
MCLE: 1.0 Hour

Professor Jonathan Turley is one of the nation's leading Supreme Court experts. For decades, he has taught about the Court and covered its cases as a legal analyst for CBS, NBC, BBC, and Fox News, and through columns in various national publications. Professor Turley will discuss how the Supreme Court has been called on to address some of the most politically sensitive issues in the nation's history. He will then examine some of the most impactful and controversial decisions of the last term and the "matinee" cases of the upcoming term.

Speaker:

Professor Jonathan Turley

---

Professor Jonathan Turley

---

Professor Jonathan Turley is a nationally recognized legal scholar who has written extensively in areas ranging from constitutional law to legal theory to tort law. He has written over three dozen academic articles that have appeared in a variety of leading law journals at Cornell, Duke, Georgetown, Harvard, Northwestern, University of Chicago, and other schools.

After a stint at Tulane Law School, Professor Turley joined the George Washington faculty in 1990 and, in 1998, was given the prestigious Shapiro Chair for Public Interest Law, the youngest chaired professor in the school's history. Professor Turley has served as counsel in some of the most notable cases in the last two decades including the representation of whistleblowers, military personnel, former cabinet members, judges, members of Congress, and a wide range of other clients. He is also one of the few attorneys to successfully challenge both a federal and a state law.

In 2010, Professor Turley represented Judge G. Thomas Porteous in his impeachment trial. The trial before all 100 U.S. Senators was only the 14th time in history of the country that such a trial of a judge has reached the Senate floor. In November 2014, Turley served as lead counsel to the United States House of Representatives in its successful constitutional challenge to changes ordered by President Obama to the Affordable Care Act. He has also represented four former attorneys general and high-ranking members of all three branches of government. He has also served as lead counsel in some of the most famous espionage and national security cases in the last two decades, including the Area 51 litigation and the Daniel King espionage case. He was also lead counsel in the World Bank protest case leading to the largest settlements in history in that mass arrest case.

Professor Turley testified over 50 times before the House and Senate on constitutional and statutory issues as well as tort reform legislation, including the Senate confirmation hearings of cabinet members and jurists like Justice Neil Gorsuch. He appeared as an expert witness in both the impeachment hearings of President Bill Clinton and Donald Trump.

Professor Turley is also a nationally recognized legal commentator. Professor Turley was ranked as 38th in the top 100 most cited "public intellectuals" (and second most cited law professor) in the study by Judge Richard Posner. He routinely ranked in surveys of the lawyers in annual surveys and has been ranked as one of the nation's top ten lawyers in military law cases. He was also ranked as one of the 100 most best known law professors in history.

He is currently the legal analyst for Fox News. He has previously worked as a legal analyst for NBC, CBS, BBC, and Fox News. He is also a columnist for USA Today, The Hill, and other national newspapers. Professor Turley's columns on legal and policy issues appear regularly in national publications in such newspapers as the New York Times, Washington Post, USA Today, Los Angeles Times and Wall Street Journal. His award-winning blog is routinely ranked as one of the most popular legal blogs. His blog was received various awards and, in 2013, the ABA Journal inducted the Turley Blog (ResIpsa) into its Hall of Fame.

Professor Turley received his B.A. at the University of Chicago and his J.D. at Northwestern. In 2008, he was given an honorary Doctorate of Law from John Marshall Law School for his contributions to civil liberties and the public interest.
10:15 a.m. – 11:15 a.m.
How to Vet and Evaluate New Cases
MCLE: 1.0 Hour

Hit the ground with confidence in your next case. Learn the best methods for weeding out the bad from the good and how to start your case off on the right path. From that first phone call to filing the complaint, case selection, strategizing, and early negotiations can set the tone for the rest of your practice.

Speakers:

Valerie Garcia Hong, Garcia Hong Law, APC; California Western School of Law
Michelle L. Jacko, Managing Partner, Jacko Law Group, PC
Seven Reasons Public Service Works for Your Small Firm or Solo Practice
MCLE: 1.0 Hour Legal Ethics

Often small firm and solo practitioners avoid public or bar service. Two experienced small firm lawyers will explain why public and bar service improves your practice and your skills, enhances your bottom line, and reduces your likelihood of discipline.

Speaker:

David Fu, David Fu and Associates, Judicial Council of California, Commission on Judicial Nominees Evaluation, State Bar of California
Martin Triano, Mediation Offices of Martin F. Triano
Family Law Year In Review 2022
MCLE: 1.0 Hour Family Law

This program will focus on new cases, statues and rules that have come down the pike and how they are impacting all aspects of family law practice.

Speakers:

Garrett Daily, Attorney's Briefcase
Judge Mark Juhas, Los Angeles Superior Court
Pivoting Past the Pandemic: Work Life Balance for Legal Professionals
MCLE: 1.0 Hour Recognition and Elimination of Bias

This program will discuss learning about attorney work-life balance and burnout issues and how to overcome them, discussing how substance use and mental health issues can lead to detrimental and/or deadly consequences, developing a self-care plan and wellness strategies during these challenging times, learning about the Lawyer Assistance Program (LAP) and other resources to maintain a balanced and healthy lifestyle.The presentation is interactive and the attendees will need their smart phones.

Speaker:

Lita Abella, State Bar of California; Abella & Associates, Investigative and Consulting Services
11:30 a.m. – 12:30 p.m.
Operating a Law-Related Business: Legal Ethics Implications
MCLE: 1.0 Hour Legal Ethics

Do you dabble in providing law-related services, maybe selling insurance or as real estate broker or financial advisor? This program will consider what is a law-related business and what ethical duties a lawyer has if engaging in a law-related business as an owner or operator. It will highlight the conflicts that could occur and how to avoid these conflicts. This program will provide practical insights to lawyers who provide law-related services.

Speakers:

Rachelle Cohen, Kehr, Schiff, Crane & Cohen, LLP
Suzanne Burke Spencer, Sall Spencer Callas & Kreuger
Censorship, an International Legal Review
MCLE: 1.0 Hour

An interactive discussion on the regulation of free speech, academic independence, and freedom of inquiry in the context of war, civil unrest, racially charged confrontations in selected jurisdictions around the world.

Speakers:

Melissa Allain
Connie de la Vega, University of San Francisco School of Law
Rom Bar-Nissim, Lincoln Bandow Law
Lawyers Who Can't Pass a Bar and Are on the Rocks
MCLE: 1.0 Hour Competency Issues

Substance abuse/competence is a concern in the legal profession and there are statistics and facts about lawyers who drink. But what about those in the legal system who must deal with the substance impaired attorney who have not voluntarily sought help. What should an attorney do if he reasonably believes that opposing counsel's handling of litigation or a deal is affected by problems with substance abuse? What is the client's role in addressing such a situation?

What are the obligations for a judge when faced with a lawyer before her whom she believes is impaired at a court hearing? What does a junior attorney to do when lead trial counsel goes missing on the day of trial and substance abuse is suspected?

Speakers:

Hon. James Gray (Retired)
Wendy Patrick, Media Commentator, San Diego District Attorney
Recent Developments in California Trusts and Estates Law
MCLE: 1.0 Hour Estate Planning, Trust and Probate Law

The presenters will discuss appellate decisions of note, and recent statutory changes affecting Trusts and Estates practitioners.

Speakers:

Matthew Owens, Withersworldwide
Ciarán O'Sullivan, The Law Office of Ciaran O'Sullivan
12:30 p.m. – 1:30 p.m.
Exhibitor Sponsor Raffle

Win a prize from one or more sponsors in the Foyer of the Hilton Bayfront. Exhibitors will be eager to give away swag. Raffle prizes will be available to those who are present.
Joint Swearing-In-Ceremony

Join us for the joint swearing-in ceremony.
1:45 p.m. – 2:45 p.m.
CLA & CJA Fireside Chat

Join the Presidents of California Lawyers Association and California Judges Association as they discuss the future of the legal profession

Speakers:

Judge Rupert Byrdsong, CJA President
Jeremy Evans
3:00 p.m. – 4:30 p.m.
Inclusivity and Belonging for the Legal Profession
MCLE: 1.5 Implicit Bias

Using current neuroscience research, this program will discuss implicit bias, how popular culture reinforces these biases, and how these biases affect representation in the legal community.

Speakers:

Frantz Farreau, Thomas Jefferson School of Law, HomeSmart Realty West, Frantz Farreau, Attorney at Law
Monee Gardner, The Old Globe
Luke Lace Lacasa, UCLA, HYPEBEAST · Freelance
Agustin Orozco, Grossmont-Cuyamaca Community College District
Everything You Never Knew You Needed to Know About SPACs
MCLE: 1.5 Hours

The program will cover the corporate, securities, litigation and tax aspects of using Special Purpose Acquisition Companies (SPACs). This program will answer the question "what is a SPAC?," will walk through a SPAC IPO, discuss the risks and rewards and provide practitioner tips for helping clients involved in or interested in SPACs.

Speakers:

Kristin A. Snyder, Debevoise & Plimpton
Louis Lehot, Foley & Lardner LLP
P. Michelle Gasaway, Skadden, Arps, Slate, Meagher & Flom LLP & Affiliate
Selwyn Whitehead, Law Offices of Selwyn D. Whitehead
Alexander Lee, Cooley
Blockchain, Cryptocurrency and Cybersecurity For Lawyers
MCLE: 1.5 Hours

This intermediate level CLE will discuss cryptocurrencies and highlight the broad range of legal and cybersecurity issues raised by various applications of this technology and the legal and regulatory responses to date. Learning objective: lawyers will learn how to advise their clients and stay abreast of the latest legal trends.

Speakers:

Daniel Garrie, JAMS
David Cass, Law & Forensics
Karen Silverman, Cantellus Group
Vikas Bhargava, Knobbe Martens
Who's on Third? – Navigating Third Party Credit and Subrogation Issues in Workers' Compensation
MCLE: 1.5 Hours Workers' Compensation Law

When workers' compensation crosses into a civil lawsuit, the road to recovery can get rocky. This is particularly true when the workers' compensation carrier proceeds with enforcing third-party credit and/or subrogation rights in the civil case. This panel will provide you a map for navigating through these sometimes tricky issues and get your case on track to a successful close.

Speakers:

Tina Eshghieh, Arash Law
Michael Sanchez, A to Z Injury Law, PLLC
Tyler D. Offenhauser, Bremer Whyte Brown & O'Meara
6:30 p.m. – 10:00 p.m.
CLA & CJA Gala

CLA and the California Judges Association (CJA) will be hosting a gala on the evening of Saturday, September 17.
This black-tie optional affair will bring together lawyers and judges across California to celebrate the accomplishments of both organizations. We will recognize incoming and outgoing leaders, member contributions, and donate to their respective foundations.